I borrowed this book from the local library.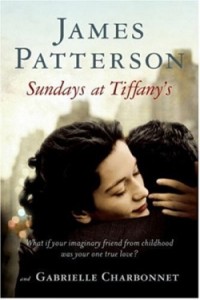 My rating for Sundays at Tiffany's –3
About:
"Sundays at Tiffany's" (movie website) by James Patterson (Website) & Gabrielle Charbonnet is a romance (appropriate for Valentine's Day).  My wife actually borrowed the book and I picked it up after she was done. I believe it took me about a day to read it.
Get a discount on "Sundays at Tiffany's" through the ManOfLaBook affiliate account on:
Amazon |Book Depository US | Book Depository UK
Thoughts:
Does James Patterson even writes these books?
The foundation of the story sounds very promising.
Jane, poor little rich girl has an imaginary friend as a young girl; her imaginary friend leaves her as she turns the ripe old age of nine – but she never forgot him. As a grown up, Jane is now a poor big rich girl cowering under her mother's shadow and acting as a doormat for her jerk of a boyfriend until she meets her long lost imaginary friend.
Is she crazy?
Is he an angel?
You'll have to find out for yourself.
This isn't a great work of fiction, the adjectives are numerous and sprinkled around generously – but it's a fun, cheesy and quick read, albeit corny and predictable with a "Star Trek" type ending (everything gets wrapped up in the last few pages).
But sometime you just need one of those.
Synopsis:
Jane is a little girl who is all alone. Her mother, an important Broadway persona and has no time for her. Jane does have a friend, Michael but only she can see him.
As Jane grows up she stays lonely.  One day she meets Michale again and to his surprise, she can see him.
Get a discount on "Sundays at Tiffany's" through the ManOfLaBook affiliate account on:
Amazon |Book Depository US | Book Depository UK
Zohar – Man of la Book
Related articles
BOOK BLOGGERS – Have you read "Sundays at Tiffany's"? If so link up your review below

--- Please like and follow ManOfLaBook.com ---