About:
State of Wonder by Ann Patchett is a fictional book taking place, mostly, in Brazil's Amazonregion. I have been in that region and ever since loved reading about it, reliving my adventures and banging my head against the wall wishing to go back again and look at things with more informed eyes.
The pub­lisher is giv­ing away one copy of this book— use the Raf­fle­copter form at the end of the post to enter.
368 pages
Publisher: Bloomsbury UK
Language: English
ISBN-10: 1408818590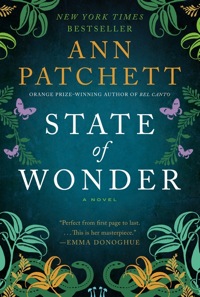 My rating for State of Wonder – 4
Buy this book in paper or electronic format
Thoughts:
State of Wonder by Ann Patchett (website) takes its time to build up, putting ordinary people, slowly but surely, in extraordinary situations where neither them nor the reader realizes it until the setup clamps behind you with no way back. The book has several themes running through it, but the two I found most fascinating is the effects mentors have on their underlings and being able to let go of formal education, when necessary, to look differently at the world around you.
I believe that access to a good mentor can make or break an individual's career. This is especially true with doctors (I think) and especially in the United States where preventative medicine is almost unheard of and might even be discouraged (this is one of the only, if not the only, country in the world where the subject is not taught in medical school). Mentors stay with people for a long time, sometimes even for the rest of their lives, much like parents, we look up to mentors and put them on pedestals which, sometimes, they might not deserve.
While we are all immersed in our hectic daily lives, it is always important to remember that sometimes the minority might be right. I know of several instances where there is more than one right answer to any question, however it is important for everyone to stand outside of themselves and observe the world through different colored glasses.. A doctor who only auscultate to patients, has to use the same skills to look at the world around and try to understand science within context.
The novel is slow to develop, but Ms. Patchett does a fabulous job introducing the reader into the psyche of the main characters and the psychology which drives them, rather than resorting to physical or emotional motivations which are much easier to understand. Each character has his or hers own demons and angels, there is no "bad guy" per say since a lot of the novel is perception of one character on another.
There is a wonderful essence of the Amazon region which resonates throughout the second half of the book. The author does a marvelous job describing the flora and fauna as well as the numerous bugs. To this day I can spend hours telling many stories about the bugs I encountered on my trip, going to sleep in a hammock only to jump out a few moments later with bugs crawling on me, getting bit by fire ants and more.
It seems the stories get better, longer and more graphic each time I tell them.
The more I read, the more I liked this book. The novel has a maturity level which I cannot put my finger on, but it is a pleasure to be engrossed.
Related Reads:
The River of Doubtby Candice Millard
The Lost City of Z by David Grann
So tell me, do you like books with a slow build up?
Synopsis:
Pharmacologist Marina Singh travels from Minnesota to the Brazilian Amazon to find a lost colleague. Marina is suppose to report on the progress of a new drug which her company is sponsoring the research, but cannot get any updates.
Dr. Annick Swenson, Marina's former mentor, has been working on her research with the Lakashi tribe whose women have healthy babies well into their 70s. When Marina shows up, Dr. Swenson who is committed to keeping the secrets of the Lakashi secret, does not extend a warm welcome to her form pupil.
Buy this book in paper or electronic format
Give­away
Give­away ends: July 4, 2012

US/Canada Ship­ping Addresses Only

No PO Boxes

Win­ners will have 24 hours to write back with their address, oth­er­wise an alter­nate win­ner will be picked
Congratulations: singitm@
TLC Book Tour for State of Wonder by  Anne Patchett :
Tuesday, May 8th: Unabridged Chick
Wednesday, May 9th: Take Me Away
Monday, May 14th: Proud Book Nerd
Tuesday, May 15th: Tiramisu Mom
Wednesday, May 16th: Jo-Jo Loves to Read!
Friday, May 18th: No More Grumpy Bookseller
Monday, May 21st: The Adventures of an Intrepid Reader
Tuesday, May 22nd: Lit and Life
Wednesday, May 23rd: Shall Write
Thursday, May 24th: Kritters Ramblings
Wednesday, May 30th: A Bookish Affair
Thursday, May 31st: Paperback Princess
Thursday, June 7th: Dolce Bellezza
Monday, June 11th: Tina's Book Reviews
Tuesday, June 12th: Amused By Books
Thursday, June 14th: missris
Friday, June 15th: Book Him Danno!
Monday, June 18th: A Library of My Own
Tuesday, June 19th: The Scarlet Letter
Friday, June 22nd: My Bookshelf
Wednesday, June 27th: Man of La Book
Zohar — Man of la Book
Dis­claimer: I got this book for free from TLC Book Tours
  BOOK BLOGGERS – Have you read State of Wonder? If so link up your review below:
--- Please like and follow ManOfLaBook.com ---