About:
Shadow on the Mountain by Margi Preus is a historical fiction novel which comfortably fits in the YA category. This is a well researchedand exciting book despite its intended audience.
304 pages
Publisher: Harry N. Abrams; 8-page insert of color photos edition
Language: English
ISBN-10: 1419704249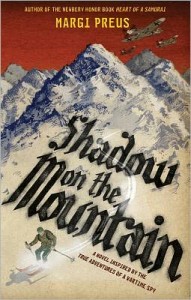 My rating for Shadow on the Mountain –

4
Thoughts:
Shadow on the Mountain by Margi Preus (website) takes place in Norway during World War II and follows the adventures of a boy named Espen. As any good historical fiction novel, the book combines actually historical events while exploring the emotional nature which these events caused.
Norway was an important target for the Nazi regime, not because of it is strategically importance, but because of their Aryan look. Hitler clearly hoped to "marry" Germany and Norway in order to produce his vision of the ultimate master race (blond hair, blue eyes and fair skin). However, many Norwegians were against everything the Nazis stood for and resisted bravely.
One interesting aspect of the book is that Ms. Preus takes pains to explore those Norwegians who supported the Nazis. From bullies who found their place among the Nazis, to Norwegians who believed they were picking the less of two evils (being conquered by Nazi Germany or Soviet Russia) and others who simply wanted to get a few extra rations for their families.
The novel runs throughout World War II, each chapter follows the life of four characters, Espen, who is the main protagonist, and his sister Ingrid, Espen's friend Kjell, and Askel the neighborhood bully. Each year which is documented is introduced with a relevant quote, either by a Nazi or an anti-Nazi Norwegian. The quote gives the reader a sense of what to expect from the chapter ahead.
While the story is about young men in times of great challenges, the author does not look down on its audience, but produced an edge-of-your-seat, well researched and documented work which has lessons relevant to today's turbulent times. Ms. Preus also incorporated a pronunciation guide (really, how do you pronounce Kjell?), a brief and relevant history of the era and more. I read a proof but I understand that the finish product will incorporate photos, maps and archival documents.
Synopsis:
Nazi Germany has swept through Norway, unseating the sit and government. Espen, a 14 year old Norwegian boy, decided to join the resistance movement and starts by delivering illegal newspapers, graduates to courier and finally is sent to spy on the Nazis.
During the Nazi regime, which lasted five years, Espen grows physically and emotionally, falls in love and loses friends. However, the life of a spy is in constant danger and Espen makes a mistake which forces him to flee his beloved country in a dangerous trek through the mountains to Sweden.
Zohar – Man of la Book
Disclaimer: I got this book for free.
BOOK BLOGGERS – Have you read Shadow on the Mountain? If so link up your review below:
--- Please like and follow ManOfLaBook.com ---