Disclaimer: I bought this kit and this is not a paid post.
Last year we bought our daughter (7) probably one of the best Christmas / Hanukah gifts we could – the IlluStory story kit. Just so you understand, our daughter is hard to shop for – she's not "into" anything except those idiotic Disney shows ("Suite Life on Deck" etc. which she is too young to watch) and doesn't really play with toys.
Sure, she likes the "idea" of toys but let's face it – girl toys are crap, they break right out of the box and twice as expensive as boy toys (which last for years). After the initial jubilation of receiving a toy it usually gets put in storage until donated several months later.
Last year, after the annual fight of "no one needs this much shit" (me) versus "it's a holiday you grumpy old fart" (my wife) we sat down to search for presents we can get her which:
1) she's going to like
2) she can do by herself
3) we'll be somewhat educational
4) be something she's not going to put away in half an hour
5) extra points if it's somewhat educational
I stumbled on the IlluStory Make Your Own Story Kit accidentally and immediately knew she's going to love it. Our daughter loves art, is very imaginative when she wants to be, smart and was doing great in 1st grade.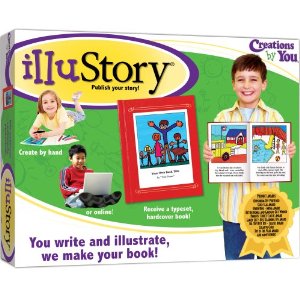 Buy IlluStory Make Your Own Story Kit
I could hardly wait until she opened it and when she did her eyes lit up but the real joy began when I explained to her exactly what the kit was and that she could write and illustrate her own book. To her credit she understood, to the discredit of some of the adults around – they didn't (at least until they saw the final product).
The kit comes with 18 book pages, 2 cover pages 10 markers (washable – my beloved wife would like to emphasize), instructions, order form pre-paid envelope and the ability to create the book online.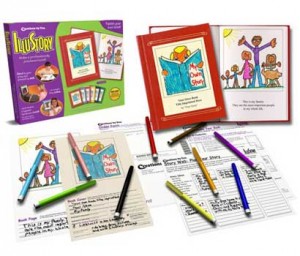 Buy IlluStory Make Your Own Story Kit
It took us several weeks while she thought of a story and did some rough drafts (I used regular paper for her to sketch out the pictures). Afterwards she designed her cover and wrote her author biography and dedication (to her young brother).
The story, called "The Cheese" is a touching tale of two flowers who need to decided what to do with the cheese the farmer gave to them. It is an enlightening and sensitive story in which our two main characters decided, you guessed it, cut the cheese (and share it).
Once she was done, Daddy proofread it, read the mailing instructions again and within a few short weeks we've had the final product in our hands. We didn't pay for any extra copies or other optional items.
As you can see from the pictures, the final product is really cool, our daughter brought it to school to share with her friends and show her teachers. We are very proud of her, not only because of the book but because she stuck with it (her attention span makes the MTV generation looks like the biblical Job), finished her story and learned a lot in the process.
Buy IlluStory Make Your Own Story Kit
Zohar – Man of la Book
--- Please like and follow ManOfLaBook.com ---