I posted about a graphic adaptation of the U.S. Constitution a few days ago. When I got a chance to send some questions to Nadja Baer, the adapter, I jumped on it, as an added bonus Mr. Cohen chimed in as well to make it a very interesting and unique post.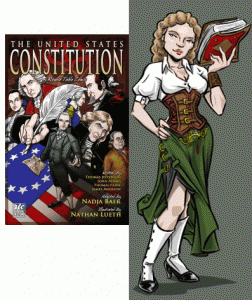 Q. What was the idea behind writing the Constitution in graphic novel format?
+David (Publisher): One of the procuring causes for adapting books into comics was to make content more accesible to an audience that currently doesn't favor it.  When looking at our wish list of IP for 2012 the Constitution easily made our short list for titles to move into production.  Besides the fact that this is an election year, the Constitution is a document that has steadily lost ground in our educational system.  There are many reasons for this that have nothing to do with the content, but we wanted to make this an easy choice for a kid to pick up and read.  We've played with the educational sector and saw this as an opportunity to dive in. 
~Nadja: I would add that putting it into a visual format makes not only the content, but also the context much more accessible. A lot of people tend to think of history–including the people in history–as a list of names, events, and dates to be memorized for exams.  Understanding the individuals, their personalities, and the circumstances in which they debated and wrote the Constitution helps modern readers to interpret the meaning behind the words.
Q. With all the talk about Constitutionality which has been in the news for the last 10 years or so, do you think that modern politicians are trying to work within the guidelines or around them?
~Nadja: That's a tricky question.  I don't think it's all that easily generalized to be able to lump all politicians and all the debates of Constitutionality into one category and say, "Yep, they've all gone rogue," or "No, they're playing straight by the rules."
Q. In many of the panels I noticed a pattern of the Founding Fathers "giving it" to modern politicians. Was that on purpose or a Freudian slip?
~Nadja: It's not so much the Founders themselves giving it to modern politicians as the personifications of the executive branches of government.  Those personifications were a purposeful choice in that they were not depicted as belonging to either modern times, or of the late 1700's; they are able to bridge the gap between the historical narrative and a modern reading of the text, and to help illustrate that the Founders definitely had posterity in mind when they set up the rules (and therefore able to stick it to the modern politico).
Q. Who is your favorite Founding Father and why?
~Nadja: John Adams.  He comes across (from his own writing) as a neurotic spitfire; he was passionate, opinionated, and funny to boot. Read the biography by David McCullough or My Dearest Friend: Letters of Abigail and John Adams, edited by Hogan & Taylor and then tell me you don't agree.  Of course, we have that extra perspective in getting to see him so closely from his own and Abagail's words to each other that we don't have for all of the Founders, so it's easy to think of him as somehow more human.
Q. Any positive/negative experiences in book promotions? What are the challenges of book promotions in the social media age?
+David (Publisher): I may be a glass half full kind of guy, but I see the current promotional climate as an opportunity.  As many before me have remarked, the publishing industry wasn't working as it had for decades.  This recession is a great equalizer and an opportunity for anyone to step in and make their mark.  This technology driven market makes it that much easier to reach an audience.  Sure, It's scary, but it's also super exciting.  
Shame­less plug dis­guised as a wise ass ques­tion: Why do you love ManOfLaBook.com so much and often visit the web­site?
~Nadja: I'm a sucker for puns and history books.  You had me at the url.
My favorite Founding Father is actually Alexander Hamilton (my thoughts on his biography), but I also find John Adams (my thoughts on his biography) very interesting. I agree with Nadja that it's amazing that John and Abigail Adams had an equal marriage in today's sense.
Zohar – Man of la Book.
--- Please like and follow ManOfLaBook.com ---