About:
Princess Elizabeth's Spy by Susan Elia MacNeal is the second book in the author's fictional series about Maggie Hope. As in the first book, Mr. Churchill's Secretary, this book also takes place in London during World War II.
The pub­lisher is giv­ing away one copy of this book –to enter fill out the Raf­fle­copt­ter form at the end of the post.
384 pages
Publisher: Bantam
Language: English
ISBN-10: 0553593625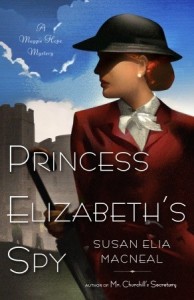 My rat­ing for Mr. Churchill's Sec­re­tary — 4
Buy this book in paper or elec­tronic format*
Thoughts:
Princess Elizabeth's Spy by Susan Elia MacNeal (web­site | Face­book | @SusanMacNeal) more personable and entertaining than the first novel, maybe because the first was an "origin story" with a series in mind while in this one the large cast of characters has already been introduced. The protagonist, Maggie Hope, grows more in this book, still feisty and strong, but also sensitive – fumbling her way through the castle.
I liked the mystery and the story, but I think that the way Maggie Hope progressed as a character is the true success of this book. Maggie is becoming a complex woman growing up quickly in a very complex time doing an incredibly complex job while trying to keep her personal life from completely being shredded apart.
While there are certainly historical figures in the book I would not classify this book as historical-fiction, but rather as a fictional story which is taking place in the past. From the author's note at the end of the book I understand that this is the way the author herself also qualifies the book. That being said, one can get a sense, or a glimpse, of what it was like to live in England during World War II, whether in a hamlet or a castle, you were still very restricted but doing all you can to help King and country.
This is a charming book with an entertaining premise, a light mystery and developing recurring characters. It is a fast, page turner with several interesting plot lines keeping you on the edge using humor and playfulness to keep the story moving.
Synopsis:
After saving England while working as a typist for Winston Churchill, Maggie Hope has her sights on becoming a spy. However, MI5 doesn't think she has what it takes and kicks her out of spy course. Maggie's new assignment is to keep an eye over the teenaged Princess Elizabeth under the guise of a math tutor.
Still emotionally recovering from discovering her father is not dead as she thought all her life, Maggie now has to deal with royalty and worst… royalty's entourage. As Maggie discovers, this is not a cushy assignment, but one which involves intrigue, kidnapping and murder.
Buy this book in paper or elec­tronic format*
Give­away
Give­away ends: November 14, 2012

US/Canada Ship­ping Addresses Only

No PO Boxes

Win­ners will have 24 hours to write back with their address, oth­er­wise an alter­nate win­ner will be picked
Congratulations: mangomonkee77@
TLC Book Tour for Princess Elizabeth's Spy by Susan Elia MacNeal :
Tuesday, October 16th:  Musings of a Bookish Kitty
Tuesday, October 16th:    Paperback Princess – author interview
Thursday, October 18th:  Oh! Paper Pages
Thursday, October 18th:  Unabridged Chick (Winston Churchill's Secretary)
Friday, October 19th:  Diary of an Eccentric (Winston Churchill's Secretary)
Friday, October 19th:  Paperback Princess
Monday, October 22nd:  Diary of an Eccentric  (Princess Elizabeth's Spy)
Wednesday, October 24th:  Life in the Thumb
Thursday, October 25th:  Luxury Reading
Tuesday, October 30th:  Mockingbird Hill Cottage
Thursday, November 1st:  Book Dilettante
Friday, November 2nd:  Man of La Book
Monday, November 5th:  Joyfully Retired
Monday, November 5th:  Unabridged Chick (Princess Elizabeth's Spy)
Tuesday, November 6th:  Wordsmithonia
Monday, November 12th:  A Chick Who Reads
Wednesday, November 14th:  Broken Teepee
TBD:  A Buckeye Girl Reads
TBD:  Simply Stacie
Zohar — Man of la Book

Dis­claimer:
I got this book for free from 
TLC Book Tours
*Ama­zon links point to an affil­i­ate account
BOOK BLOGGERS – Have you read Princess Elizabeth's Spy? If so link up your review below:
--- Please like and follow ManOfLaBook.com ---