About:
Prague Winter: A Personal Story of Remembrance and War, 1937-1948 by Madeleine Albright is a non-fiction book in which the author talks about the years mentioned from her perspective. Somewhat personal, adventurous and moving, this memoir takes the reader on a European history lesson which is not often told.
The pub­lisher is giv­ing away one copy of this book –to enter fill out the Raf­fle­copt­ter form at the end of the post.
480 pages
Publisher: Harper Perennial
Language: English
ISBN-10: 0062030345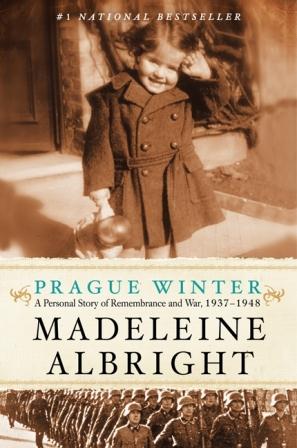 My rating for Prague Winter – 5
Buy this book in paper or in elec­tronic (Kindle enhanced with audio) format*
More Books by Madeleine Albright
More Rec­om­mended World War II books on Man of la BookStore
Thoughts:
""There is not deeper cause for despair than malicious hope (Hitler proved that), and few traits more valuable than sadness and anger at suffering. The distinction that matters is not whether a story concludes happily but whether there is at its core an affirmation that life has meaning. That is why this book of remembrance and war will end in hope."
My grandfather was born in Bratislava, a city in Czechoslovakia. He wasn't very talkative, my grandfather, and would answer questions very sparingly and it is a shame that I did not ask that many. He passed away many years ago and I would have loved to tour his birth city with him. That is if he was willing to do so, he managed to escape the Nazi occupation as a teenager but never saw his parents or sister again who were murdered in the concentration camps (his brother became a partisan and they reunited after the war).
That is one of the many reasons I wanted to read this book, I wanted to learn more about history which I didn't even know I was curious about. However, the more I read the book the more I realized that I have heard the names of Czech leaders and statesman even though I did not know exactly what their contributions were.
Prague Winter by Madeleine Albright was a book which surprised me from start to finish. At first I thought I was picking up a memoir by the famed Secretary of State about her childhood, but what I got was a first-class lesson in history before, during and after World War II from perspective seen thorough Czechoslovakian eyes.
As a daughter of Josef Körbel, a Czechoslovakian diplomat, Mrs. Albright has a unique lifetime perspective of the country's situation and blends her personal insights into the political dynamics which shaped European and American policies during those turbulent years. The author's fascinating narrative and perspective drew me into the book from the first several pages and engrossed me until the last page.
This book should be on the reading list of every State Department employee. The lessons which Ms. Albright brings to the forefront can save us from the same traps that gave rise to the Nazis and also the communists at the end of the war. The book also highlights individual achievements, where simple people rise to the occasion in small, meaningful ways which don't make it to the history books (Jews creating a community in a ghetto, Londoners' banding together during the bombing, as well as individual diplomatic achievements for democracy) but are inspiring and meaningful.
The book includes pictures from the Körbel family collection of people and events, the writing is amazing and even the footnotes are superb. Ms. Albright's grasp of political measures, historical events and articulate narrative makes this book a gripping read.
Buy this book in paper or in elec­tronic (Kindle enhanced with audio) format*
More Books by Madeleine Albright
More Rec­om­mended World War II books on Man of la BookStore
Give­away
Give­away ends: March 4, 2013

US/Canada Ship­ping Addresses Only

No PO Boxes

Win­ners will have 24 hours to write back with their address, oth­er­wise an alter­nate win­ner will be picked
Congratulations: ayancey@
TLC Book Tour for Prague Winter by Madeleine Albright :
Zohar — Man of la Book
Dis­claimer: I got this book for free from TLC Book Tours.
*Ama­zon links point to an affil­i­ate account
--- Please like and follow ManOfLaBook.com ---