About:
Magnificent Desolation: The Long Journey Home from the Moon by Buzz Aldrin is an autobiography by the famous astronaut. I read this book about a year ago, but it seems fitting to publish the post today, the 43rd anniversary of the moon landing.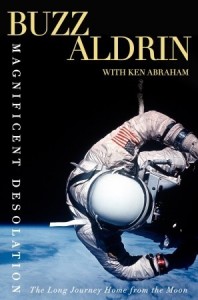 My rating for Magnificent Desolation – 4
Buy this book in paper or electronic format
Thoughts:
Magnificent Desolation: The Long Journey Home from the Moon by Buzz Aldrin (website) is a very interesting book. To be honest, I only bought it as an excuse to meet Mr. Aldrin, but I'm glad I did.
For most of us, whether we want to admit it or not, the highlight of our lives, the event which we define ourselves, the successful summit to the Mt. Olympus of our existence, happened before we were 25.
For an aerospace engineer with an inquisitive and fertile mind it seemed a disappointment that it happened at age 39.
I think the book could use a bit of re-writing by a "commoner". It's almost insulting to read that Dr. Aldrin and his lovely wife say they had no income in one paragraph, yet they travel the globe, take ski vacations, go diving around the world and drive luxury cars in the next paragraph.
It just doesn't make sense and takes away from the inspirational story.
Newsflash: Most people don't make a quarter million dollars a year so it's hard to feel bad for someone who does even if they should make more or all their friends are multi-millionaires.
It just doesn't resonate.
The last few pages have a problem that most of us encounter on almost a daily base – what's written doesn't translate to the way it was meant to be read.
Ever had someone misunderstand an e-mail you wrote because they read it in the wrong "tone" of which you wrote it, or didn't get the sarcasm?
These pages come off as boasting and name dropping which I'm sure wasn't the intention.
For example, Dr. Aldrin's great anecdote about giving a speech in Madrid, Spain and not knowing anyone in town with a few hours to kill so he called King Juan Carlos.
I found it to be funny and I can only imagine the look on his wife's face – but it reads more like boasting than a light hearted anecdote.
By the way, I think personal anecdotes, like the story mentioned above, are great and what make an autobiography worth reading.
Even though there has been criticism of Dr. Aldrin's behavior in the past there is not a single person in the astronaut corps who has done more to promote space than the good doctor.
Not a single one!
Funny enough, the one thing which might have pushed Dr. Aldrin's agenda further into the future and get kids interested in space and science was not his doing, but Disney paying him homage in Toy Story.
Dr. Aldrin recognized the opportunity and instead of picking a fight with "the Mouse" he embraced it with both hand, not only for himself, but also for the future astronauts of this nation.
I hope Dr. Aldrin will keep working tirelessly to promote his agenda for the Mars orbiter, space tourism and educating our youth.
Keep appearing on Sesame Street, keep the late night appearances and keep being a friend to Buzz Lightyear – the best ambassador of math and science we currently have.
By the way – Dr. Aldrin can rest at ease. The big achievement of Apollo 11 was to land the Eagle on the moon, not to step off a ladder.
Synopsis:
This book is divided into three parts.
Part 1: Getting to the moon and back.
A fascinating first hand account which I, for one, cannot get enough and worth the price of the book.
I can't begin imagine going on a mission where "plan B" is to cut off communications and let me die – or that 1,000 things need to go absolutely right for a success – all run by a … 74K computer?????
I can't imagine what not being afraid to die feels like.
Part 2: Dr. Aldrin's fight with depression and alcoholism.
I can certainly understand how being in space, looking down on earth and realizing how insignificant we all are is a crushing blow to any human being and especially ones with huge egos…you know…like astronauts.
It is fascinating to read about dr. Aldrin's depression, his understanding of the problem and his long term solutions to dealing with it.
Even though I don't understand addicts, nor do I think that there is anything heroic about fighting an addiction (because you shouldn't have became an addict in the first place) I do recognize the achievement of beating addictions as well as the strength, perseverance and emotional toll it took for Dr. Aldrin to admit to it publicly and, in that act alone, help multitudes of people.
Part 3: Dr. Aldrin's push to make space travel affordable.
The first two parts of the book are very interesting, this part falls short.
We get a glimpse into the genius which is Buzz Aldrin and his fight to promote space travel (as well as himself, but who could blame him).
Buy this book in paper or electronic format
Zohar – Man of la Book
Disclaimer: I bought this book (signed by Buzz himself).
BOOK BLOGGERS – Have you read Magnificent Desolation? If so link up your review below:
--- Please like and follow ManOfLaBook.com ---