About:
"Lionheart" by Sharon Kay Penman is a historical fiction book about Richard I and the Third crusade. This is a well researched book which is fascinating and exciting.
My rating for Lionheart – 5
Buy Lionheart from Amazon.com*
More Books by Sharon Kay Penman*
Thoughts:
"Lionheart" by Sharon Kay Penman (website | Blog | Facebook) is historical fiction at its best. The research is impressive and Ms. Penman doesn't try to fit the history to her story, but writes the story around history.
I have always been fascinated by Richard I or as he is better known Richard the Lionheart. It was probably the nickname and "guest appearance" in Robin Hood which spurred up the imagination of an eight year old boy more than his deeds.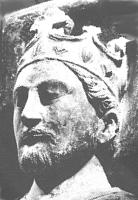 The author brings King Richard to life, not only his battle glory, but also the man in all his splendor, his sardonic wit, battle commander genius and misunderstanding of women. Something most men share. Richard, which thinks of nothing of sacrificing his own life, agonized to no end about his battle plans and minimizing casualties. The battle scarred solider who understands and respects his enemies, but still understands the importance of making an entrance, whether by land or by sea.
"Richard began to curse, "Bleeding Christ! I wsa so sure that raven swine would hit us from the rear! Take over, Jaufre!"
I enjoyed the descriptions of battles, large and small, the tactics involved, the agonizing decisions commanders must endure as well as the impossible logistics of taking an army across the ocean with no means of support. The author's goes into great length describing Richard's success, some of it was luck, but most of it was meticulous planning and audacity both in the field of diplomacy and war.
While Richard I is certainly the main figure in the book, there are many others historical figures. Queen Eleanor of Aquitaine, his mother, Richard's sister Joana and his wife Berengaria all have a major role in the novel, and are depicted in an interesting and involved manner.
Entrance to The Church of the Holy Sepulchre in Jerusalem
(photo by yours truly)
I enjoyed this book tremendously, but be aware that this is not an easy novel to read. There are many characters, each of them a world of their own, complex, multi-faceted with strange and fascinating relationships among them. The book also includes political struggles and intense back-stories, together with the fighting (they always go together, don't they?).
The book ended at the end of the Third Crusade, Ms. Penman stated that Richard I's life was so full that it would take more books to cover. I, for one, am looking forward to the rest.
One of the benefits of having this blog is that I get introduced to writers, new and established, which I never got the chance to read. I'm extremely glad that I had a chance to review this book and am planning to read more of Ms. Penman's books in the future. Not only are her books well received but her blog is one of the best author's blogs I have encountered. She writes about many interesting subjects and best of all, about her historical research.
So tell me, have you "discovered" any established writers?
Synopsis:
Richard I, better known in his nom de guerre "Lionheart" takes his vows seriously including the one to free Jerusalem from Salah-a-Din. He leaves his kingdom and together with King Philip of France they make their way, with their armies, to the holy land.
Buy Lionheart from Amazon.com*
More Books by Sharon Kay Penman*
Zohar – Man of la Book
Disclaimer – I got this book for free.
*Ama­zon links point to an affil­i­ate account, the money is usually spent on books
Article first published as Book Review: Lionheart by Sharon Kay Penman on Blogcritics.
Related articles
BOOK BLOGGERS – Have you read "Lionheart"? If so link up your review below:
This post is in the 81st

--- Please like and follow ManOfLaBook.com ---
Summary
Reviewer
Review Date
Reviewed Item
Lionheart by Sharon Kay Penman
Author Rating





Product Name
Lionheart by Sharon Kay Penman