About:
Batman, Vol. 1: Court of Owls by Scott Snyder is part of the New 52 reboot DC comics has initiated. The New 52 is a 2011 relaunch of DC Comics entire line of monthly superhero books.
176 pages
Publisher: DC Comics
Language: English
ISBN-10: 1401235425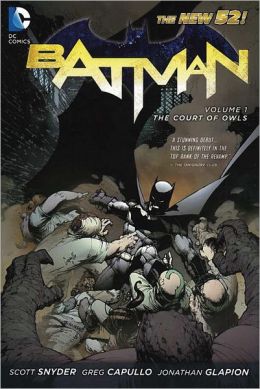 My rating for Batman, Vol. 1: Court of Owls – 4
Buy this graphic novel in paper or electronic format*
Thoughts:
Batman, Vol. 1: Court of Owls by Scott Snyder tried to do a very difficult job – reboot Batman!
The graphic novel did achieve this goal, but I'm not sure I like it. The story is good, the Court of Owls, a secret society, is certainly a worthy adversary for Batman – but which Batman?
Despite the evidence, Batman doesn't believe the Court of Owls exist because he investigated them already… when he was a kid! Heck, that was when Pluto was still a planet and we still believed that processed food was actually "food".
If Batman has one superpower is that he doesn't believe anything, doesn't trust anyone and has a plan of every contingency. I also didn't care for Dick Grayson being Batman's bitching buddy. This isn't a play, characters can have inner monologues without bitching to other characters, especially people they consider sons.
However, the story is engrossing and my complaints are negligible at best and only refer to vol. 1. The art by Greg Capullo is very good and shows great talent.  I enjoyed The Court of Owls very much and am looking forward to vol. 2.
Synopsis:

After a series of brutal murders rocks Gotham City, Batman begins to realize that perhaps these crimes go far deeper than appearances suggest. As the Caped Crusader begins to unravel this deadly mystery, he discovers a conspiracy going back to his youth and beyond to the origins of the city he's sworn to protect. Could the Court of Owls, once thought to be nothing more than an urban legend, be behind the crime and corruption? Or is Bruce Wayne losing his grip on sanity and falling prey to the pressures of his war on crime?
Buy this graphic novel in paper or electronic format*
Zohar – Man of la Book
Disclaimer: I bought this book.
*Ama­zon links point to affil­i­ate account
--- Please like and follow ManOfLaBook.com ---