Three Days of Terror in November
How Kristallnacht Continues to Haunt, and Instruct, Us Today
=====================================================
Mr. Reisfeld has kindly made available the following books for giveaway (enter at the end of the post):
Two (2) Signed paperback copies of The Last Way Station
Two (2) eBook copies of The Last Way Station
One (1) eCopy of Jerusalem Imperilled by Harry Freedman
=====================================================
As night fell over the Third Reich on Wednesday, November 9th, 1938, Nazis at all levels of government launched a vicious, organized, national pogrom against the Jews. The attacks, unprecedented in their scope, brutality and brazenness, lasted for three days, during which time squads of sledge-hammer-wielding 'brown shirts' took the lead, savaging, looting and, in some cases, leveling Jewish businesses, homes and houses of worship. By the time the rioting stopped, organized mobs had ransacked and destroyed 267 Jewish synagogues, setting most of them afire. They had wrecked and plundered an estimated 7,500 Jewish storefronts and shops, desecrated Jewish cemeteries, and vandalized and looted countless Jewish homes.
Many Germans welcomed the violence. Eyewitnesses described mothers lifting their children up over bystanders' heads so that they, too, could see the destruction of Jewish property, while their parents cheered on the perpetrators. Everywhere, the sound of shattering glass filled the night, inspiring Joseph Goebbels, Hitler's Minister of Propaganda, and the man directly responsible for  inciting the riots, to 'commemorate' the occasion by euphemistically dubbing it "Kristallnacht" or "Night of Crystal."
Others watched in horror as the orgy of violence and cruelty played itself out in front of them. British historian and noted Churchill biographer Sir Martin Gilbert, included, in his detailed historical account, The Holocaust, remarks by a Dr. Arthur Flehinger, an eyewitness, who remembered seeing "people crying, while watching from behind their curtains."
What these people saw, from the relative safety of their homes, was the end of German society as they knew it. The German people had turned the nation's rich cultural heritage and brief experiment with democratic government, during theWeimarRepublic, into the hands of wanton criminals and thugs. The Nazi regime sponsored public book burnings, sanctioned and led vicious pogroms, and carried out a thousand other daily indignities that they used to keep society in check.
The people Dr. Flehinger described, could no longer ignore the truth. They could see that the Nazis were turning the German state into a vast, unprecedented criminal enterprise, whose lawlessness and cruelty now reached their doorsteps — and into the homes, synagogues and businesses of their Jewish neighbors.
Authorities no longer cared to maintain even the pretense of a society governed by rule of law. For three days, they waged war on their Jewish citizens, as organized mobs cursed the Jews as they forced Jewish men and women to get down on their hands and knees and scrub the sidewalks and streets. 'Brown shirts' beat at least 91 Jews to death while they forced the victims' families and neighbors to watch. SA Storm Troopers broke into thousands of Jewish homes at gunpoint, rousting 30,000 able-bodied men and boys, who they then shipped to theDachau,Buchenwaldand Sachsenhausen concentration camps, where they were forced to work as slave laborers. (Three months later, the camps released those detainees, on the condition that they would leaveGermanyimmediately. But by then, nearly 2,000 of them had died.)
In the wake of Kristallnacht, the German government expropriated more than $5.5 billion dollars in 'reparations' from the Jews, confiscating 20 percent of all Jewish private wealth. To secure payment, the government went so far as to intercept six-million Reichsmarks in insurance claim settlements intended for Jewish policyholders. Within ten months, more than 115,000 Jews had fledGermany. They left behind shops, homes, businesses and most of their personal possessions. All of these 'abandoned' assets immediately became the property of the German Reich.
Whether or not those who Dr. Flehinger saw crying behind their curtains shed tears for their Jewish neighbors, one thing remains clear: the smarter ones among them knew that the violence directed, so publicly, against the Jews one day, could just as easily target them the next.
Kristallnacht teaches us about the extreme risks we take when we allow government power to fall into the wrong hands and to grow unchecked. It also reminds us of the danger of placing people of "suspect" character in positions of power. No matter how enticing their promises may be, no matter how simple their solutions to nation's problems may sound, we should never sacrifice our long-term well-being for promised, short-term gains.
Modern historians hold conflicting views about Kristallnacht's true significance. On the one hand, they see it as the event that signaled the Nazi Party's descent into the state-sponsored barbarism and brutality of The Holocaust. But, on the other hand, they acknowledge it as the singular event that exposed the world to the true horror of Hitler's regime. After Kristallnacht, the Nazi party's public image, and influence, abroad suffered greatly. As journalists filed live, eyewitness accounts of the German atrocities, most of the free world joined in opposition to Hitler and his treatment of the Jews.

and the LONG book trailer

=====================================================
A graduate of Northwestern University's Medill School of Journalism, Jon Reisfeld has worked, most of his adult life, as a writer and marketer. He has more than 25 years combined experience in journalism, corporate communications, advertising and marketing.
At 23, Jon became the first writer ever to have a story start on the cover of Baltimore Magazine. (It was a piece about teenage suicide.) He later founded and published Housecalls, a Baltimore-based health-and-fitness magazine. In the mid 90s, Jon served as Director of Marketing and Communications for Duron Paints and Wallcoverings. He ran the half-billion dollar regional paint company's 12-person in-house advertising agency for several years before returning to his private marketing consulting practice.
Jon's eclectic interests run the gamut from cosmology, chaos theory, technology and sci-fi to social issues, politics, the economy, anthropology, marketing and writing. He began writing fiction in his 40s and enjoys reading, walking, cycling, attending the theatre and "most" new movie openings.
His next major fiction project will be a sci-fi trilogy set on earth and spanning "several hundred years" of human history.
=====================================================
Harry Freedman is one of dozens of  up-and-coming "indie" authors featured in 
"The Last Way Station Mega Book Tour,"
 a new concept in virtual book touring that involves multiple authors at individual book-tour stops. The tour is also hosting a Sweepstakes in which you can enter to win a Kindle Fire and secondary prizes consisting of ebook bundles. Click here to learn more about 
Harry Freedman
 and the other authors and to complete your free entry in the Sweepstakes!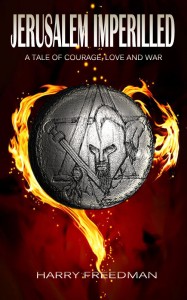 Jerusalem Imperilled 
The year is 66 a.d. After the Roman rulers, in Judea (Palestine), enslave and deport a young Jewish man and his fiancé, the man must decide between aiding the growing rebellion in his homeland or finding and reclaiming the woman he loves.
Harry Freedman
An entrepreneur, life coach and writer with a Ph.D. in Aramaic translation of the Bible, Harry Freedman has written five books, some factual, some fictional, set either in biblical or contemporary times. Jerusalem Imperilled is the first book in his "Yavneh" trilogy. It's a novel, although, Harry says, many of its characters are real. Harry presently lives, works and writes in downtown, London.
Give­away
Give­away ends: Jan­u­ary 21, 2012

Mail­ing address for books must be in the US/Canada

Win­ners will have 24 hours to write back with their address, oth­er­wise an alter­nate win­ner will be picked
Congratulations:
ebveronis – Jerusalem Imperilled

lomazowr@, melorabrock@ – signed softcover of The Last Way Station

my3cats@, ladyofthegrey@ – eBook of The Last Way Station
--- Please like and follow ManOfLaBook.com ---