About:
Jane: The Woman Who Loved Tarzan by Robin Maxwell is a feminine take on the famous Burroughs novel. This book tells the famous story from the view point of Jane Porter, Tarzan's love interest.
The pub­lisher is giv­ing away one copy of this book— use the Raf­fle­copter form at the end of the post to enter.
320 pages
Publisher: Tor Books
Language: English
ISBN-10: 0765333589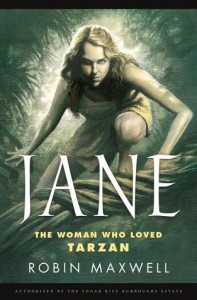 Thoughts:
Jane: The Woman Who Loved Tarzan by Robin Maxwell (website | Facebook | @TheRobinMaxwell) is not a retelling of the origin story of Tarzan, but a reimagining of the mythology originally created by Edgar Rice Burroughs.
I was very excited about this novel, Tarzan has always been a favorite (who can forget those wonderful comics and Johnny Weissmuller films) and in preparation read the original Tarzan of the Apes by Edgar Rice Burroughs. To be honest, I was surprised at how much I enjoyed the book again (I read it as a kid), I can certainly see why it is considered a classic and captures the imagination of the young and young at heart.
Reading the first several pages of this novel I could tell that Jane would be different. The Jane Porter is this novel is a strong woman, a scientist and trail blazer. Jane tells her story, after a scientific presentation, to author Edgar Rice Burroughs. While this plot device might work, I thought it was a bit awkward especially when Jane, a scholar and an old fashioned woman (in today's terms) describes intimate details about her relationship. I know very few, if any, women who even today would do so to a complete stranger.
This is by no means a criticism, in Tarzan of the Apes Burroughs skips over the long periods for which it took Tarzan to learn skills. Ms. Maxwell fills in those gaps with slower, more methodical narrative. Being the central character, Jane is certainly interesting throughout, even if a bit vain. I felt Jane's character grew throughout the novel, from an uptight student to a more animalistic creature less dependent on her protectors (civilized or not) and more willing to take risks in the physical or psychological realms.
Edgar Rice Burroughs, Inc., the company which manages the rights to the author's work, has approved this novel. According to the author's note they were actually quite involved in the process. I believe they made the right choice, Ms. Maxwell created Jane a believable and more grounded character than any man could have (injured Jane's concerns performing her bodily functions in front of Tarzan never would have entered my mind).
While the Burroughs books are pure adventure, this novel is more or a romance with adventure sprinkled here and there. I thought the background stories of the characters were interesting but the ending seemed a bit over the top for this novel. Ms. Maxwell set out to write a different Tarzan novel and she succeeded, taking a beloved character and reimagining her completely, but then she went and, in what I could only guess to be an homage to the Burroughs series, created an ending which simply doesn't match the elegant tale she has weaved.
Despite the ending, I thought this was a well written book about an interesting character who is fun and out of place in her own time. The dialogue was well written, compelling and with depth.
Related Reads:
Tarzan of the Apes by Edgar Rice Burroughs
So tell me, what is your favorite reimagining (book or film)?
Synopsis:
Jane Porter is the first and only woman at the University of Cambridge to study medicine. She is a fish out of water and already an "old maid" being unmarried in her early twenties. An American explorer named Ral Conrath invites Jane and her father to join his West African expedition they both agree.
However, Ral Conrath has a secret, he couldn't care less about their scientific pursuits in order to make himself rich with gold. Soon Jane finds herself in danger and discovers that she has a secret admirer, a white man living in the jungle who is thought to be a legend.
Give­away
Give­away ends: Sep­tem­ber 23, 2012

US/Canada Ship­ping Addresses Only

No PO Boxes

Win­ners will have 24 hours to write back with their address, oth­er­wise an alter­nate win­ner will be picked
Congratulations: Name as email
Zohar – Man of la Book Disclaimer: I got this book for free.
BOOK BLOGGERS – Have you read Jane: The Woman Who Loved? If so link up your review below:
--- Please like and follow ManOfLaBook.com ---