About:
Man At a Machine by Stef Wertheimer is an autobiography of the Israeli industrialist. My father has always admired Mr. Wertheimer, unfortunately he did not live long enough to read this book which I'm sure he would have loved.
383 pages
Publisher: yediot sfarim (2011)
Language: Hebrew
ASIN: B00641DQDM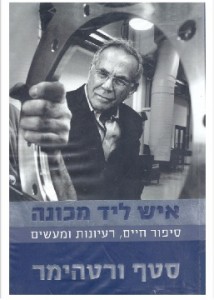 My rating for Man at a Machine – 5
Buy this book in paper
format.
Thoughts:
Man At a Machine by Stef Wertheimer is more than just a biography, it is an important document of what can be achieved with dedication and creativity. Mr. Wertheimer came to Israel as a boy after his family escaped Germany during the 1930's and has became a successful entrepreneur and statesman.
The self-made man, who built his first business with his own two hands believing in himself and his foresight, is not only one of the captains of Israeli industry but also a posses a unique ideology. Mr. Wertheimer's views were shaped and solidified by his parents, who accurately forecasted Europe's turmoil and managed to get out in 1936, when Stef was 10 years old. To this day, in his mid to late 80' Mr.Wertheimer holds dear to his ideals. He doesn't believe in the stock market and hence none of his very profitable companies do not participate.
As an immigrant, Mr.Wertheimer suffered cruel treatment from the Sabres (those born in Israel) in his childhood and even afterwards. This type of arrogance even continued to his professional career when his products were not bought by Israel's security industry despite their superior quality until he made a name for himself overseas. When the Israeli government started shutting down trade schools, Mr.Wertheimer did the opposite and very successfully raised a system of trade schools which not only gave hope to kids who aren't school material, but got Mr.Wertheimer very dedicated, professional and loyal workers.
Mr. Wertheimer speaks from experience of implementing economic models which not only enrich, but also develop communities and give back to the workers. As a self made man he is despises the red tape which is put on by bureaucrats of all shapes and sizes. Mr. Wertheimer puts in a lot of effort in his business plans to avoid bureaucrats as much as possible and hence take away their power. The author made an observation that bureaucrats only have power when they say "no" and the more I think about it the more I see the wisdom, Mr. Wertheimer's technique – simply write bureaucrats and red tape out of his business equation as much as possible.
Mr.Wertheimer's list of accomplishments is long and varied, but most amazing is that he stayed true to himself, to his family and country. The book should be given to every business major on how to conduct oneself when achieving success, on not only how to take, but how to give back and enjoy the huge return which comes with investment in people and community. It is not only an exciting biography, but homage to the working man.
Buy this book in paper
format.
Zohar – Man of la Book
Disclaimer: I bought this book
BOOK BLOGGERS – Have you read Man At a Machine? If so link up your review below:
--- Please like and follow ManOfLaBook.com ---