People write books for a zillion reasons and that is what makes the written word so incredibly interesting and unpredictable. The reasons and the possibilities are infinite making each story unique, not only in origin, but in its direction, too. Kill Daddy was written for an accumulation of reasons and is intended to speak to all who would like to listen.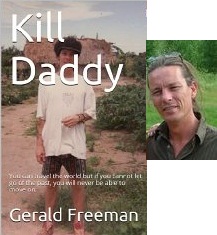 Primarily, Kill Daddy was brought to life in answer to a question I was repeatedly asked at various functions upon my return to Portugal: What was Africa like? Each response I gave was inadequate, or required too much time to explain. Feeling as though I were doing a disservice to all the wonderful people I had just spent 2 years living with, I decided that I had to write down the full answer, which would inevitably be a book.
The next surprise was all the memories that came tumbling down when I was only a couple of chapters into writing about my experiences. An epiphany, a realisation that if I was to do the story justice, I would have to go the whole way: Why did I go to Kenya in the first place? Because I was a lost soul with nothing better to do. Moreover, I did not mind getting killed in the process of doing whatever it took to rid my mind of the hate that had been fed into me my whole life.
How to turn a positive reggae story into a misery memoir was the new title, for a while. I believe writing is an art form and, like my sculpture, it must come from the heart, if I want to connect with real people about real things. For this reason, I felt obliged to tell the full story, and despite having to expose more of myself to the world than I planned to, I feel much better for it.
Africa did play a large part in healing me and gave me the strength to live on, so as the journey was told, I realized that the book was actually going to be inspirational. Despite the heavy subject matter, Kill Daddy has strong elements of hope in it, not only for my quest for inner peace, but also for the plight of the Africans, who are so much less fortunate than us.
I hope the book raises awareness about the suffering either one individual or even a whole nation of people can endure. I hope, also, it is able to inspire others to fight for the future they deserve, instead of accepting misery as a way of life, and considering dreams as things only other people are allowed to have.
By Gerald Freeman

http://www.amazon.com/dp/B00FQQBV2O/
https://www.youtube.com/watch?v=w20AAAje07U
http://geraldfreeman.blogspot.pt/
http://gerryaldridgedesign.dinstudio.se/
https://www.facebook.com/pages/Kill-Daddy/443631555746921
--- Please like and follow ManOfLaBook.com ---