About:
Hope: A Tragedy by Shalom Auslander is a fictional book with lots of Jewish themes and humor. This is Mr. Auslander's first novel, his previous books are Foreskin's Lament and Beware of God.
The publisher is giv­ing away one copy of this book— enter at the end of the post.
304 pages
Publisher: Riverhead Hardcover
ISBN: 159448838X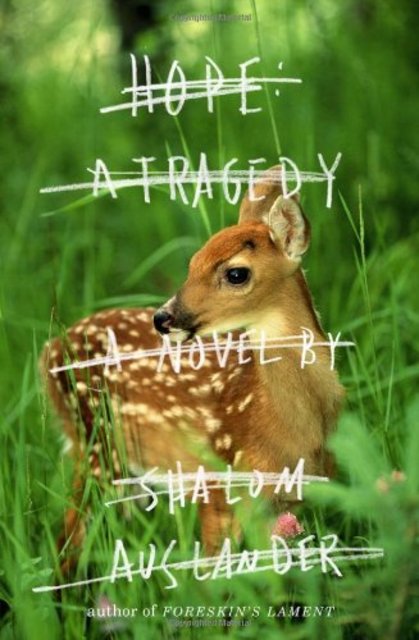 My rat­ing for Hope: A Tragedy — 5
Great price on this book in paper or elec­tronic for­mat
through the Man of la Book Affil­i­ate Account
More books by Shalom Auslander
Thoughts:
In the hilarious Hope: A Tragedy (#HopeTragedy) by Shalom Auslander (website | Facebook) the author slaughters many Jewish golden calves and in the process brought this carnivore to tears. The main theme of this wacky book is the hopelessness of hope as well as the danger of hoping for something better.
There were so many funny elements in this book I don't even know where to start. Whether it's the protagonist's mother who has PTSD from the Holocaust even though  she was born and bred in New York, her terminal illness which never materializes, a doctor who believes Hitler was the ultimate optimist, a foul mouthed Anne Frank, or just some lines which, in context, had me laughing out loud (that's LOL for you younglings).
Mr. Auslander's ability to push the brutality of dark humor is irreverent and remarkable. The characters in the book turn old age words of wisdom upside-down and backwards which makes the reader laugh and think at the same time.
The writing is in short sentences, but punchy at points. The cynicism flows off the pages and the insane characters which the novel brings together all work in its favor.
Mr. Auslander: you had me at the line "Blow me said Anne Frank"!
I remember watching an episode of The Sopranos when one of the Russian girls tells Tony (played by James Gandolfini) that Americans always expect something good to happen and get disappointed when it doesn't, while the rest of the world expects bad things to happen.
So tell me, are you hoping for good or expecting the bad?
Books in a sim­i­lar vein:
The Amaz­ing Adven­tures of Kava­lier & Clay by Michael Chabon
Cen­turies of June by Keith Dono­hue
A Long, Long Time Ago and Essen­tially True by Brigid Pasulka
A Short His­tory of a Tall Jew by Den­nis Danziger
Synopsis:
Solomon Kugel moved is family to Stockton, New York, a town famous for nothing which is why Kugel likes it so much. Kugel hopes to begin again. However, Kugel gets something he didn't bargain for, an elderly, foul mouthed Anne Frank living in his attic writing a sequel to her book and a lunatic burning down old farmhouses.
Great price on this book in paper or elec­tronic for­mat
through the Man of la Book Affil­i­ate Account
More books by Shalom Auslander
Give­away
Give­away ends: Jan­u­ary 15, 2012

Mailing address must be in the US/Canada

Win­ners will have 24 hours to write back with their address, oth­er­wise an alter­nate win­ner will be picked
Congratulations: megnate@
Zohar – Man of la Book
Disclaimer: I got this book for free.
Article first published as Book Review: Hope: A Tragedy by Shalom Auslander on Blogcritics.
Related articles
BOOK BLOGGERS – Have you read Hope: A Tragedy? If so link up your review below:
--- Please like and follow ManOfLaBook.com ---