You may have heard a lot about World Book Night already but I wanted to reach out to see if you would consider mentioning it on your site or posting a graphic about the event which I can send. The event will take place on April 23, 2012 across the U.S., UK and Ireland. During World Book Night, 50,000 people, named as "book givers," will each be giving away 20 books from a select list with a goal to have 1,000,000 people across the United States alone celebrating reading en masse.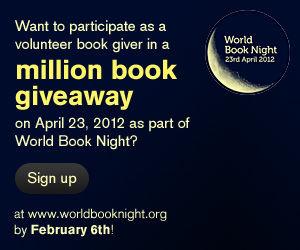 There will be adult books and young adult titles given away. People can sign up at http://www.us.worldbooknight.org/about-world-book-night/register-as-a-2012-giver by February 6 to apply to be a "book giver." You can see the complete list of titles that includes books from authors like Jodi Picoult, Michael Connelly, Stephen King, Barbara Kingsolver and Junot Diaz, among others at: http://www.us.worldbooknight.org/wbn2012-the-books.
I signed up – now it's your turn.

Zohar – Man of la Book
Related articles
--- Please like and follow ManOfLaBook.com ---