Greil Marcus has gone from rabblerousing rock critic at magazines like Rolling Stone and Creem to one of our most respected masters of scholarship and prose, serving on the board of the National Book Critics Circle and co-editing A New Literary History of America for Harvard University Press a few years ago. After reading his most recent book, The Doors: A Lifetime of Listening to Five Mean Years (well worth the read), I decided to revisit his immortal Mystery Train: Images of America in Rock and Roll, now in its fifth edition.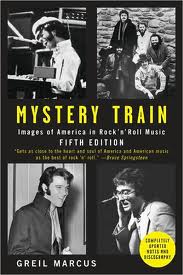 The really remarkable thing about reading a book of music criticism today is that, whereas original mid-century hipsters like Marcus had to scrounge through bins of rare and dusty 78s to rediscover and taxonomize the lineage of American music, now I can lie in my bed with my immaculate iPhone, the size of a candy bar, and find, via Spotify, just about any record ever released. It's a bit less romantic, sure, but how amazing is it that I can read a footnote about the only session ever recorded by an obscure bluesman in 1927 Mississippi, and instantly call up all six of his songs for my own listening pleasure? This style of reading, with instant audio cross-references, makes a book like Mystery Train a staggering virtual-reality trip through American history and myth.
The book is divided into chapters that focus on two "Ancestors" ("Harmonica" Frank Floyd and Robert Johnson) and four "Inheritors" (The Band, Sly and the Family Stone, Randy Newman, and Elvis Presley). Harmonica Frank, the most obscure of these acts, was a white bluesman, a strange concoction of hokum, profanity, beauty, and power — but not mixed in exactly the same way that we're used to in pop music, rather he's a faulty prototype, the Elvis that never was. Robert Johnson, of course, is the elusive Faustian hero of American music, who supposedly sold his soul to the devil to gain his uncanny abilities. Obscure during his life, his posthumous legacy has been explosive and unending.
The chapter on the Band tracks those old roots to the very juncture of Americana and pop that they represent (along with mentor Bob Dylan, of course, who Marcus is here able and even duty-bound to drag in, though he admits Dylan is too vast a topic and requires a book of his own, and indeed Marcus has written two). The Sly Stone chapter uses the unifying metaphor of the legend of Stagger Lee, as the Band chapter does to a lesser extent with Pilgrim's Progress. While this comes to feel, if not racist, at least a bit reductive, it's still a good look at Sly's fascinating story. The chapter on Randy Newman gave me a new appreciation for the fluent songwriter and his incredibly dark and sarcastic lyrics.
The last chapter is far and away the longest: a roving, poetic meditation on Elvis entitled the Presliad. Here we see the King in all his grandeur and mediocrity, a fittingly paradoxical icon with all the accumulated meaning of the American experience. And just like Elvis, after various rants, jokes, detours and digressions, Marcus really brings it home.
About the Author:
This guest contribution was submitted by Samantha Gray, who specializes in writing about online bachelor degree. Questions and comments can be sent to:  samanthagray024@gmail.com.
--- Please like and follow ManOfLaBook.com ---