I knew Nora Ephron's work without knowing that I knew it. She wrote, and sometimes also directed, some classic movies, such as When Harry Met Sally, Sleepless in Seattle and You've Got Mail. None were favorites, but I liked most of her movies.
When I was shopping for some reading material for a long trip, I was excited when I stumbled upon one of her books, "I Feel Bad about My Neck: And Other Thoughts on Being a Woman." I wanted to get a feel for her writing and her voice — independent of what came across on the Silver Screen, which can be clouded by acting choices.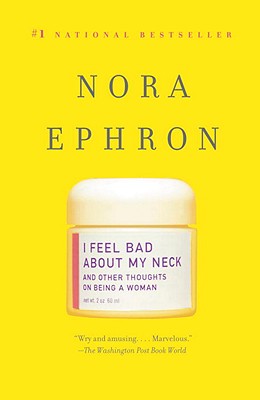 Buy this book in paper or electronic format*
Though the book is not new (it was published in 2006), it was a national bestseller when it was published, and it continues to hold up as a popular book because of the author's legacy and because of the broad appeal it has for women.
I guess, too, I was feeling a bit reflective about aging when I picked it up. Though I am almost half Ephron's age when the book was published, I am still starting to see the stamp of time and beginning to question how to age gracefully and adapt my sense of identity in this new skin. I expected to find some great insights into these and other questions, but I didn't.
Ephron's world is one where regular salon visits, botox and exclusive New York City apartments are no sweat — and her writing doesn't convey any sense that she understands that they might be for other people. It's not a world to which I can relate, and I'm not sure that it's a world to which many women can relate.
"Meanwhile, the unthinkable happened. The state legislature passed a luxury decontrol law stating that any tenant whose rent was more than $2,500 a month and who earned more than $250,000 a year would automatically be removed from rent stabilization. I couldn't believe it. I was stunned. I could understand the new law applying to new tenants, but how on earth could it apply it to those of us who had lived in the building for years under the implicit bargain involved in rent stabilization?"
This is a problem I will never have — and one that is in no way relevant to anything I will experience. And I think it's safe to say the same for a vast majority of people.
Even the conversations that are more universal — those about aging and beauty and love — turn into something that is far removed from the realm of most everyday experiences, such as getting plastic surgery or the anguish of selecting something to cook for a world-renowned chef.
Though Ephron's style is snappy and fun, the book lacked any depth of insights that were promised in its description. The subject matter was superficial, and it always seemed to skim the surface of Ephron's experiences. We learn a lot about her cooking and her handbags, but very little about her relationships or her feelings about herself (other than simple statements like "I feel bad about my neck.")
The book would probably make for great beach reading, but overall, I found it to be a bit disappointing.
Have you read any of Ephron's work? What did you think? Share your thoughts in the comments!
Buy this book in paper or electronic format*
The Author:
Kelly Opferman is a seasoned writer who at this time focuses on her car note calculator site. Her educational background includes finance, teaching, and economics.
*Ama­zon links point to an affil­i­ate account
--- Please like and follow ManOfLaBook.com ---