There are a few books that stick with you from your childhood. One of those books for me is Bunnicula by James Howe. Now, I know you are wondering what such a strangely titled book could be about.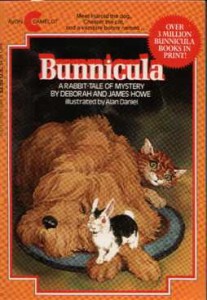 Buy this book in paper or electronic format
Summary:
Bunnicula is a vampire rabbit. But instead of the typical vampiric tendencies, Bunnicula sucks the juice out of vegetables. Found abandoned in a midnight showing of Dracula, Bunnicula is brought home to a typical suburban family. However, Chester the cat suspects that the rabbit is no innocent bystander. Determined to protect his family from the evil bunny, Chester enlists the help of his long-suffering friend, and the narrator of the story, Harold the dog. Poor Harold is torn between protecting his family's newest addition and giving into Chester's paranoid theories of undead rabbits.
Why I love it:
This story has everything a child could possibly want: humor, talking animals, suspense, and a touch of horror just to top it all off. The adventures these animals go through are hysterical and I know I read this book, and the entire Bunnicula series, time and time again as a child. Even now, I still have a copy on my bookshelf that I thumb through from time to time. If your children are looking for a great series to read, I highly recommend Bunnicula.
Buy this book in paper or electronic format
Author Byline:
Kelsey is the editor in chief for http://www.findananny.net/. She loves to write article and ideas that parents & nannies would be interested in hearing. She helps society on giving information about nannies through nanny services. She is a professional writer & loves writing on anything.
BOOK BLOGGERS – Have you read Bunnicula? If so link up your review below:
--- Please like and follow ManOfLaBook.com ---