If you did not know yet about good old truth that book is the best gift, then this article is for you and the best book for a modern miss is a book about fashion. You can choose any one of these books of outgoing year as a present for your girlfriend, sister or yourself.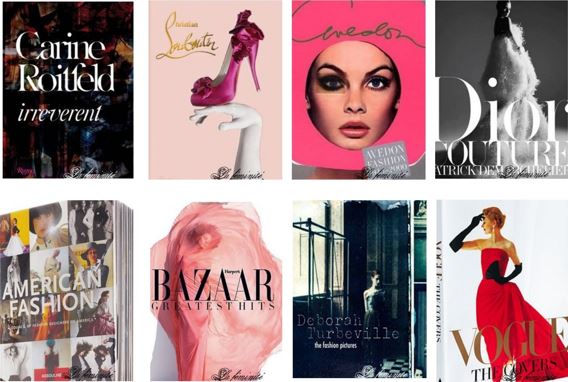 Irreverent written by Carine Roitfeld, This book memoir of the former Vogue Paris editor in chief Carine Roitfeld. Stories about fashion, style, career, photo shots and advertisement, which Carine was creating through the years of working in the most fashion magazine.
Christian Louboutin. Bible for Carrie Bradshaw if she was real and a table-top book for any shoes lover. A story of the greatest designer, beginning from his work for Chanel until his up-to-date look books, his collection with many of pictures, which were not published ever before.
American Fashion written by Charles Scheips. The book about history of American fashion, which was created under the direction of members of Council of Fashion Designers of America. The book treats of more than 100 the most outstanding American designers with variety of illustrations.
Vincent Aletti, Carol Squires, Willis Hartshorn, Phillipe Garner, Avedon Fashion, 1944-2000. The photo book dedicated to iconic photographer of the past century Richard Avedon. It is one of the most beautiful photo books.
Dior Couture written by Ingrid Sischy, Patrick Demarchelier. The book is about Christian Dior, 150 illustrations of the best things created by the designer. The stories about the designer himself and all the distinguished couturieres working for Dior throughout its history.
Deborah Turbeville: The Fashion Pictures written by Deborah Turbeville. The book is dedicated to one of the most famous modern fashion photographers Deborah Turbeville. It is a collection of the best author`s works, who was working with such designers as Valentino, Commes des Garçons, Sonia Rykiel and Coco Chanel.
Harper's Bazaar: Greatest Hits written by Glenda Bailey. The book is dedicated to Harper's Bazaar fashion magazine. There are best pictures out of the photo shots of the magazine within the edition for the last 10 years.
Vogue: The Covers written by Dodie Kazanjian. There are best covers of Vogue magazine lined up over the entire history of the existence of. pictures of such metres as Helmut Newton, Richard Avedon,  Annie Leibovitz are considered as pieces of art.
About the author: Melisa Marzett is a successful writer who writes on anything really. Melisa is very interested in writing for various websites to help them to become more popular and to develop herself at the same time because she believes she becomes more of a writer each time she finishes work on writing an article. She was dreaming about becoming a writer from the early childhood and gradually she was becoming closer to her dream. She is highly educated and curious by nature person who is ready for any kind of challenge when it comes to writing. She is currently working for http://bigpaperwriter.com/ providing with publications on different topics. She does not afraid of anything and is up for writing a post whatever a suggestion is.
--- Please like and follow ManOfLaBook.com ---