By Scott Beller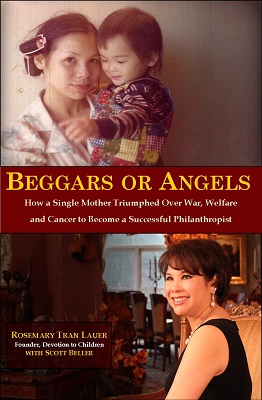 Retrieving memories of and writing about your own past can be challenging enough. Recounting someone else's life history – enabling readers to actually see it unfold through the eyes of your subject and doing so convincingly – can be even more daunting. In writing the memoir Beggars or Angels (August 2013, Oaklight Publishing) for an amazing woman who's lived through enough drama and hardship to fill two lifetimes, I had two main goals:
1)      Authentically capture the essential experience, thoughts and voice of this courageous South Vietnamese woman; and
2)     Make a virtually unknown person's story a compelling read that would connect with readers of all backgrounds.
Defining the Big Picture
I met Rosemary five years ago to discuss her reasons for wanting to write a book. As we sat in an 8' x 8', windowless conference room beneath the glow and hum of incandescent lights, I listened for two solid hours as 40-year-old memories poured from her in thickly accented, not-quite-broken English. Her thoughts, which had steeped over decades, were still as fragmented and chaotic as the Vietnam she and her two young children fled in April 1975.
Instantly, I sensed Rosemary's wartime experience and flight from Saigon would be compelling enough to fill a book on their own. But as important and inspiring as those events were, Rosemary insisted (and I agreed), they were just the launching point on her way to discovering her life's "reason why" in America. Many years after landing in the U.S., her destiny would shift along several more points of inflection, ultimately leading her to establish the affordable child care nonprofit Devotion to Children (www.DevotionToChildren.org.) Rosemary wanted the book to focus less on her than on the events, people and philosophies that shaped her, guided her, and made Devotion to Children possible.
With that understanding, we set out to write not simply a refugee's tale of desperation, but a uniquely American, rags-to-riches story of persistent hope. A story to which millions of people (particularly parents) from a diversity of backgrounds, struggling to make ends meet, could relate. Rosemary intended this book, along with her nonprofit, to be both her legacy and a platform for talking about Devotion's mission. It had to move people enough not just to notice but to also take action.
Trees from the Forest
I'd written and ghostwritten many bylines and biographical profiles during my public relations and writing career, but Beggars or Angels was my first book-length project. With Rosemary's entire lifetime to cover, I knew I would have to establish a framework right away or it might have gotten too overwhelming.
I realized that, for the purpose of clear storytelling, the book should be split into three distinct phases of her life: Vietnam, America and the mission of Devotion to Children, which Rosemary hopes will live on long after she's gone. From there, I was able to map out the unique milestones and identify the most important people during each phase. These were the dots – experiences both familiar and unfamiliar – I would need to connect in order to create an engaging portrait of Rosemary's life that showed how this woman could have achieved these great things:
Early upbringing and influences
First love and children
Heartbreak and leaving Vietnam
New beginning and early struggles in the U.S.
New love and family
Networking, entrepreneurial success and setbacks
Another stunning heartbreak spurs growth of Devotion to Children
Health issues lead to self discovery, new outlook, and set life on a new trajectory.
While some of her experiences were unique, the common threads – starting over, unemployment and money/credit issues, child care, betrayal, conflict and lost love – would help Rosemary's story resonate with not just single mothers and immigrants, but also a broader audience, which would include any parent or individual struggling to keep their head above water while taking care of family and/or themselves. Following the writer's creed of "show, don't tell," I chose the most vivid anecdotes and relationship developments from each chapter of Rosemary's life. The action/conflict and its inherent drama spoke more loudly than if I'd relied solely on internal dialogue or a basic reporting of events to plod the story along.
Capturing a Voice
Maintaining accuracy in the way Beggars or Angels was told – in Rosemary's first-person voice – was perhaps the most important detail allowing Beggars or Angels to stir emotion in and more deeply connect with readers. Rosemary, a non-native English-speaking, mother of seven with no formal schooling, needed a professional writer to help get her story on paper. But for her voice to come across as authentically hers, I couldn't allow my voice to creep into the text. I had to balance 20 years of professional writing polish with her conversational informality, not to mention our two subjective perspectives with various cultural sensitivities. I spent a significant amount of time with Rosemary to achieve this balance. Not just to ask questions but also to listen and understand how she viewed and responded to the world – then and now. Our interviews often ran 2-3 hours – and we had dozens of them over the course the three years it took to complete the book's outline and full manuscript. As our relationship developed, I also met and got to know a little about her family, friends and colleagues, providing me an even bigger window into her life.
Devil in the Details
Even though Rosemary had told snippets of her story many times over, the biggest difficulty for her was remembering the details, setting and precise order of events from as far back as her childhood in Vietnam. Because no one's memory is infallible, Rosemary often gave conflicting accounts of the same event or, during the time between our interviews, she would remember something important to add to what I'd already written. It became part of our routine to walk through whole sections of the book again to ensure my reconstruction was completely accurate. So we sat together in a relaxing environment, usually her living room or kitchen table (maybe even with a glass of wine), to explore the recesses of her memory. Talking freely and responding to follow-up questions helped unearth things she hadn't thought about for many years. Many of them unpleasant. Some she had never spoken about to anyone, not even her closest family members, and probably never would.
For Rosemary, the challenge was remembering the order of events and their precise details. For me, it was deciding which of these events, anecdotes, conversations, etc. were most compelling and conducive to driving the narrative forward, and which ones should be (or had to be) left out while still maintaining an authentic, consistent first-person voice.
 *          *          *
 Scott Beller is the co-author of Beggars or Angels: How a Single Mother Triumphed Over War, Welfare and Cancer to Become a Successful Philanthropist. He is a public relations industry veteran with more than 20 years experience providing strategic communications guidance to corporate, government and nonprofit clients. During his PR career Scott has held leadership positions with some of the world's top agencies, including Fleishman-Hillard, and Weber-Shandwick, where he honed his writing skills and developed numerous public-information campaigns advocating for an improved quality of life for children and their families. Now as a proud work-at-home dad raising two children under age 6, Scott knows the challenges of balancing career and family, as well as finding affordable, quality child care. As an independent consultant, Scott's helped launch two parenting organizations, DADS Unlimited and REEL FATHERS (www.reelfathers.org), with founder Allan Shedlin. In 2003, Shedlin appointed Scott as his volunteer Director of Communications. That same year, Scott was named Volunteer of the Year as a youth mentor for New Hope Housing, Northern Virginia's largest provider of shelter, transitional and permanent housing to homeless families. Scott lives in Arlington, Virginia, with his wife Elisabeth and two brilliant, adorable, thoughtful and exhausting daughters.
LINKS
Amazon:                  http://amzn.to/1oF6Ypw
Powell's Books:    http://bit.ly/1j0gFx5
Barnes & Noble:   http://bit.ly/1mKHSIK
GoodReads:           http://bit.ly/1mt5rV4
Asian Fortune News published excerpt (Chapter 1):   http://bit.ly/1la7htq
Facebook:
www.facebook.com/ScottBellerWordsmith
www.facebook.com/beggarsorangels
Twitter:
@SEBeller
--- Please like and follow ManOfLaBook.com ---