When I tell people that I write a parenting column and host a radio show about parenting, relationships, and other "emotional" reactions, I often get a surprised reaction as if men shouldn't or can't address these issues.  How ironic in our so-called progressive and PC times.  The reality is actually that things are far from equal between men and women.  In so many ways, women have more advantages today since they are finally allowed to choose work and/or being a mom.  Sadly, dads are still disparaged in real life if they choose not to work or to be a SAHD (Stay-At-Home-Dad).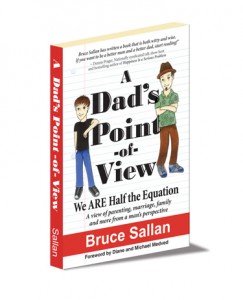 I learned this the hard way: by living and experiencing it.  As with so many of life's experiences, it wasn't the way I'd planned it.  I love the saying, "You make plans and God laughs" as that, describes very well, the last ten years of my life.
The second chapter of my life began, in a nutshell and without all the gory and self-pitying sounding details, when my marriage ended about eight years ago and my wife, the mother of my two boys, left.  I mean, "Left."  She saw the boys briefly the first year of our separation but soon thereafter disappeared.  She did turn up eventually but her involvement in her two son's lives was minimal, at best.  I took on that 24/7 job at the same time my parents were declining.  So, I became the classic sandwich parent, especially since I had no siblings to share any of the responsibilities of making decisions and looking after my deteriorating parents.
What struck me so forcefully and shocked me so much were the reactions I received from the moms and dads at the elementary school, which my two boys attended.  I began volunteering and offering to help/participate in the parent-teacher association.  I was the only dad.  The moms gave me lip service but really didn't want a man in their midst.  I took the clear hint and gave my time and money directly to my boys' teachers.  I volunteered in their classes and contributed money directly to their class needs.  It turned out to be an invaluable experience.
During these early months of what I called the "dark days of divorce," I was doing it truly all alone.  But, what struck me most were the two questions I regularly got from the moms and dads at our school.  Almost without exception, these moms and dads knew my situation yet the moms would ask, "What do you do all day?"  Can you imagine a mom asking another mom that question?  The dads would ask, without malice, "When are you going back to work?"
These were educated, upper-scale, adults who should have known better.  The "job" of raising our kids is every bit as important as any "real" job, guys…and moms, what do you do all day that you'd ask me such an insulting and naïve question?
I decided that the man's point-of-view was just not being represented and began writing about these feelings and experiences.  A short column in a local throwaway paper led to a bigger column that eventually grew to be carried in over 100 newspapers and web sites.  The column led to a radio show, which is now carried on an Internet Radio Network (PWRN) and three AM stations.
Learning to network via Social Media, I started a Facebook Page, named after my column's name, "A Dad's Point-of-View," and its grown to over 3,700 members from literally all over the world.  Mysteriously, there are over 100 members from Mumbai, India. The power of the Internet was never more apparent.  Twitter and LinkenIn became part of my arsenal of networking outlets and recently I began my own Twitter chat called, #aDadsPov.
My own web-site, BruceSallan.com, has grown during this journey and is my first line of expression.  A book seemed the logical next step.  When self-publishing emerged from the shadows and gained respectability I knew it was time for my book.
"A Dad's Point-of-View: We ARE Half the Equation" is the result.  It's a compilation of some of my best "A Dad's Point-of-View" columns, other writing, and original material, all organized in an easy-to-read group of chapters that cover the gamut of my writing.  It's for everyone who has or had parents and everyone that was once a child.  It is a man's view on life, marriage, raising kids, faith, and much more.  It is not PC, nor is it the least bit disparaging of women.
I believe with all my heart that I speak more directly, more honestly, in a more relatable fashion than the majority of so-called experts in these fields.  I speak from experience, from the heart, and I don't sugarcoat the message.  Love me or hate me, but you'll know you're hearing one man's sincere, passionate, and heart-felt point-of-view.
Find Bruce and all his writing, radio shows, and more at BruceSallan.com.  Order his book, "A Dad's Point-of-View: We ARE Half the Equation" at Amazon or "the Store" at his web-site, where there's a special offer that includes an exclusive companion poster to the book.  For fun, watch the Music Video Bruce's son wrote and produced for him, in honor of his column and book. Follow him on Twitter @BruceSallan and join his #aDadsPov Tweet Chat every Thursday from 6:00 – 7:00 p.m., PST. And "like" his "A Dad's Point-of-View" page on Facebook.
Press Release:
A Dad's Point-of-View: We ARE Half the Equation
"A Dad's Point-of-View: We ARE Half the Equation isn't only about parenthood; it's about the complex pieces that combine to form a complete life. The author includes issues everyone recognizes but not everyone discusses, though they should. Like holidays, the role of faith, family dinners, guy friends, man-woman differences, and the "big stuff" such as feelings of failure and the meaning of life."
— Michael Medved, syndicated radio talk show host and Diane Medved, author of 6 books.
Raising kids has never been a road that is completely smooth, stress free or void of challenges. However, if you're a dad, and a single or divorced dad at that, raising kids alone can be all the more challenging. Fortunately, now there is help with the newly released book by popular columnist and radio show host, Bruce Sallan, who himself is a full-time dad. This insightful book on parenting and so much more shows dads (and moms too) that it's not only about the ride; it's about the kids sitting next to you and the ability to enjoy those precious moments, while also instilling in your children a good sense of purpose and responsibility. We would welcome the opportunity to send you a copy for review.
Sallan, a former ABC Vice-President with a quarter of a century of experience in show business is now a well-known columnist, radio-show host, and an active blogger with a substantial social media presence. He conveys in his book the same wit and humor that he conveys in his column, A Dad's Point-of-View (now in over 100 newspapers and websites) and radio show (currently on three AM stations and the PWRN Internet Radio Network, with others being added regularly.) He also was recently chosen as the #5 Dad Blogger among the top 50 Daddy Bloggers on Cision, http://bit.ly/CisionTopDads, one of the leading global providers of media relations.
Utilizing his own real life experiences as a single full-time dad (who is now happily remarried), Sallan imparts his wisdom, sharing practical tips for successful parenting as he has learned them over the years. He addresses many of the current-day myths about parenting, and manages to squelch most of them, with a fresh, new perspective. Parents with children of all ages will enjoy the messages he brings as well as the humor he shares.
As Sallan points out, the primary focus in his book is on parenting and other issues from the dad and man's point of view, though often the situations are gender-neutral. The subjects cover everything from single parenting, raising teenagers, school, marriage (first, second +), technology and families, holidays, friends, to stepparent issues, dealing with teens, drug and alcohol issues with teens, money issues, and sometimes, just general issues about gender differences.
A Dad's Point-of-View: We ARE Half the Equation (ISBN # 978-0-9833166-0-2) is published by JuneDavid Publishing and sells for $19.95 at leading bookstores or through the author's website at http://www.BruceSallan.com.
In today's society raising children is harder than it has ever been and parents need all the help and support they can get. A Dad's Point-of-View: We ARE Half the Equation offers just that. We hope you enjoy the book and we would welcome a review. We can be reached at (954) 971-4025 or Diana@virtualwordpublishing.com if you have any questions or would like additional information.
Thank you for your consideration. We look forward to hearing from you.
--- Please like and follow ManOfLaBook.com ---
Summary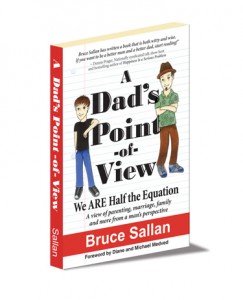 Article Name
Guest Post by Bruce Sallan – "Men Are Parents, Too aka Why I Wrote My Book"
Description
When I tell people that I write a parenting column and host a radio show about parenting, relationships, and other "emotional" reactions, I often get a surprised reaction as if men shouldn't or can't address these issues.
Author
Publisher Name
Man of la Book - A Bookish Blog
Publisher Logo