Just in time for Mother's day, the pub­lisher has made avail­able one (1) copy of "Times Two" AND an unreleased advance MP3s of two of Antigone Rising's new singles – Borrowed Time and Everywhere is Home to be given out– enter at the end of the post.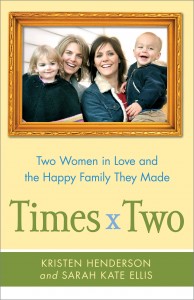 As the Oscar-nominated film The Kids are Alright reflects, gay parenting, sperm donors, and alternative families are no longer a rarity in our culture.  But if you can imagine Annette Benning and Julianne Moore's characters finding out they are pregnant at the same time, with the same donor, with due dates only three days apart, you might get a sense of the real life story of Kristen Henderson and Sarah Kate Ellis (website), who document their funny and heartwarming path to parenthood in Times Two: Two Women in Love and the Happy Family They Made
Sarah, a high-powered magazine executive, and Kristen, a laid-back rock star, fell madly in love and decided to start a family.  After determining that Sarah had the better shot at pregnancy, they headed to the fertility doctor.  But month after month of drug treatments, miscarriages, and heartbreak left them desperate, and they decided they'd both try at the same time.  And then the utterly improbably happened… Written as a she said/she said story, Times Two follows their double dose of hormones, morning sickness, weight gain, birth plans, and excitement.  At the same time, it explores the legal and social challenges they faced as a gay couple that no parent should have to endure.
Kristen Henderson is a founding member, guitarist, and songwriter for the popular female rock band Antigone Rising.  In 2005, the band was catapulted into the national spotlight when Starbucks and Lava/Atlantic Records partnered to release their debut CD, From the Group Up, in five thousand stores nationwide.  She is the mother of two beautiful children and divides her time between strumming guitar on tour with the band and toting two toddlers to Mommy and Me music classes.  Kristen lives in Sea Cliff, New York, and never intends to leave.
Sarah Kate Ellis is the vice president of marketing for Real Simple magazine and has been a publishing executive for more than a decade, most recently as creative services director at Vogue.  She is also the mother of two amazing toddlers and divides her time between her high-powered, deadline-driven job and marching around the house singing "We Are the Dinosaurs" with her kids.  Sarah enjoys living in Sea Cliff, New York, but insists on relentlessly discussing her hopes of moving back to New York City over sushi dinner on Friday nights with Kristen and their neighbors.
Give­away
Rules:

Con­test is for one (1) new copy of "Times Two" AND an unreleased advance MP3s of two of Antigone Rising's new singles – Borrowed Time and Everywhere is Home.

There will be ONE (1) WINNER

Must be a US mail­ing Address

Ends Sunday May 15, 2011

Win­ners will be cho­sen using Random.org

Win­ners will have 24 hours after my ini­tial con­tact to write back their mail­ing address, oth­er­wise alter­nate win­ners will be picked
Congratulations: kimbers10@
Related articles
--- Please like and follow ManOfLaBook.com ---