About:
Real Estate is the third and final installment in Deborah Levy's 'Living Autobiography' memoir series. Ms. Levy is an award-winning novelist, playwright, and poet.
224 pages
Publisher: Bloomsbury
Language: English
ISBN-10: 1635572215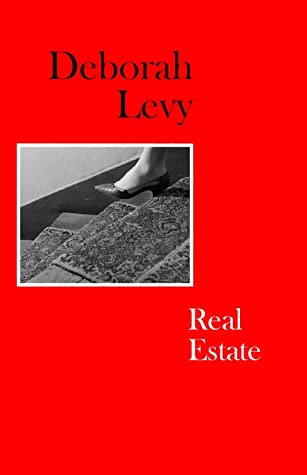 My rating for Real Estate — 4
Buy Real Estate from Amazon.com
More books by Deborah Levy
Thoughts:
It's a venturesome thing to write about your life while you're still living it. This is not to mistake Real Estate — Levy's third installment of her 'living autobiography' trilogy — as an attempt to eulogize herself. Rather, Levy wants to meditate on womanhood, gender politics, and philosophy as they are reflected and refracted through her own life.
Levy's latest effort was written in the midst of crises both personal and communal: a divorce from a partner of 23 years, and a global pandemic. Now a divorcée with two adult children, Levy is writing in the year of her sixtieth birthday, from various rented sheds in London, and reflecting on her pre-COVID travels across Greece, Mumbai, Berlin, Paris, London, and New York. She attends birthdays, literary parties, takes up a nine-month fellowship at Columbia University, and clears out her deceased step-grandmother's flat.
Amongst all this traveling, we get a sense of a fragmented life, and we learn she is in pursuit of something material to claim as her own. She fantasizes about eco pools, housekeepers, lavish floral pagodas and silk bed sheets — objects that are the preserve of the affluent and propertied. For now, she has a rather ill-looking banana tree, purchased on Shoreditch High Street, that sits regally upon a windowsill in her crumbling flat on a North London hilltop.
In Real Estate, Levy is preoccupied with the meaning of home beyond its tangible definition — how we make it, and also what it means to unmake it. In turn, being faced with nothing tactile or material to claim solicits objectification of the ephemeral things that constitute our 'real estate'. How can you redefine real estate for yourself when you have deviated so much from what it means for society at large?
Though I found this central premise an intriguing one, what really captivated me is Levy's creatively written discussion of womanhood, particularly in how she describes it as a kind of stasis — or at least to feel caught in a cycle of waiting (for love, for a proposal, for children).
"I wondered if it was possible to be a matriarchal character who doesn't hold everyone hostage to her needs, egos, anxieties and moods," she ponders. To reject the domain of womanhood involves rejecting the social mores that often hold women captive. The house plays a role in this, of course, in the way it represents a physical and metaphorical confinement.
Levy applies this line of thought to relationships, too. Men set the parameters of the home, despite it classically being the woman's domain, in the same way they set the parameters for relationships. Heterosexual relationships in particular, according to Levy, involve a compromise that is gendered, in that women tend to feel it more acutely and bear the burden of inevitable concession. So, she asks, what does it mean to cast off these shackles and claim some real estate for yourself? Are women to blame for wanting to do this?
I also enjoyed the way Levy leans into solitude — an unsurprising theme considering the context in which this book was written. Refreshingly, this is not a sense of loneliness or longing, and paradoxically, her thoughts on loneliness are often drawn from conversations with others.
Conversations with a figure that Levy references only as her 'closest male friend', for example, pepper her more introspective musings. He is a married man who describes himself as a person that 'isn't happy, but pretends to be', while his wife is the inverse, a woman who 'is happy, but pretends not to be'. Levy is skeptical of this, and indeed, many of the observations her friend makes on the subjects of life and love.
The friction between the pair throughout the book is palpable, and perhaps the natural consequence of two people living different lives, trying to make sense of the others' choices. Many of the more philosophical takeaways from the book, when Levy isn't quoting de Beauvoir and Baudelaire, are borne from the cleavage of their disagreements. Levy watches her friend ruin his second marriage by sleeping with their mutual friend, Helena. This desire for closeness is perplexing, and for Levy, can only be understood through the prism of his own dissatisfaction and warped sense of entitlement to others. He comments that "to live a life without another person by one's side to love is to live a half life". "I'd rather live a half life, well," Levy counters.
I myself have enjoyed witnessing the genesis of this living autobiography just as much as Levy's acclaimed writing. It is this oeuvre that not only represents a lifetime's work, but her personal real estate — a written portfolio, as opposed to one made of bricks and mortar. This latest effort is a testament to just how immersive and compelling Levy's writing can be.
Synopsis:
"Three bicycles. Seven ghosts. A crumbling apartment block on the hill. Fame. Tenderness. The statue of Peter Pan. Silk. Melancholy. The banana tree. A love story."
Virginia Woolf wrote that in order to be a writer, a woman needs a room of one's own. Now, in Real Estate, acclaimed author Deborah Levy concludes her ground-breaking trilogy of living autobiographies with an exhilarating, boldly intimate meditation on home and the specters that haunt it.
In this vibrant memoir, Levy employs her characteristic indelible writing, sharp wit, and acute insights to craft a searing examination of womanhood and ownership. Her inventory of possessions, real and imagined, pushes readers to question our cultural understanding of belonging and belongings and to consider the value of a woman's intellectual and personal life.
Bio:
Rachel Weatherley is a writer with Reedsy, a marketplace that connects indie authors with resources and professionals to help publish their books. She's an avid reader and reviewer with a penchant for critical analysis. In her spare time, you'll find her enjoying a book on the beach or attempting to learn Italian.
--- Please like and follow ManOfLaBook.com ---
Summary
Reviewer
Review Date
Reviewed Item
Real Estate by Deborah Levy
Author Rating





Product Name
Real Estate by Deborah Levy