About:
James Bond: The Body by Aleš  Kot (illustrated by Luca Casalanguida, Rapha Lobosco, Valentina Pinto, Tom Napolitano and Eoin Marron) finds secret agent 007 recounting how he got each cut and bruise on his last mission. This graphic novel collects the six issues which make up The Body story-line.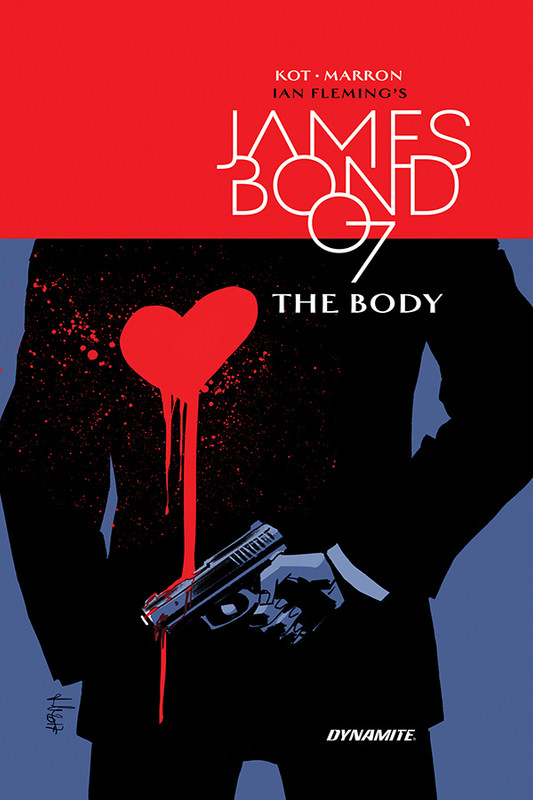 My rating for James Bond: The Body – 5
Buy James Bond: The Body from Amazon.com*
More Books by Aleš  Kot *
Thoughts:
I started reading this graphic novel thinking this would be another secret agent on a mission story but instead I got an excellent James Bond arc. James Bond: The Body by Aleš Kot (illustrated by Luca Casalanguida, Rapha Lobosco, Valentina Pinto, Tom Napolitano and Eoin Marron) is something different and deeper than the previous graphic novels.
The story is clear and concise, there is no outrageous plot to take over the world, and there are no beautiful women to save (or kill when they eventually backstab Bond). This story is grounded and fresh, the comics work together to bring a cohesive story to life.
The writer shows how Bond struggles with the decisions he makes and the actions he takes. He knows he will pay for bad decisions his superiors make, yet he executes his mission faithfully.
Bond also sees another side of life, one that doesn't have people who want to kill you behind every corner, and that tranquility might actually work for him at some point. The audience certainly gets the feeling that Bond is tired, mentally and physically broken from the world he lives in.
This arc is a change of pace for the series, and goes in its own direction. The art in this graphic novel is a mixed bag, the story is really good but the backdrops seem to be boring (a sauna, house, pub) which is exactly the time for the artist to shine.
Synopsis:
Issue #1: The Body – James Bond tells the story of his previous mission to a medical examiner. Each bruise and bump has a connection and a purpose – either to kill or to save a life.
Issue #2: The Brain – In this issue Bond interrogates a scientist who let a terrorist organization steal a lethal virus.
Issue #3: The Gut– To find the virus, Bond has to infiltrate a group of Neo-Nazis who intend on selling the weapon.
Issue #4: The Heart – Bond finds himself without weapons, and wounded, in the Highlands. A woman who chose a solitary life helps him heal and Bond finds that he likes the peaceful place.
Issue #5: The Lungs – The story now comes together in a terror attack – maybe!
Issue #6: The Burial – James Bond meets his old friend and CIA counterpart Felix Leiter in a pub where the secret agent must face the consequences of his actions.
Buy James Bond: The Body from Amazon.com*
More Books by Aleš  Kot *
Zohar — Man of la Book
Dis­claimer: I got this book for free.
*Ama­zon links point to an affil­i­ate account
--- Please like and follow ManOfLaBook.com ---
Summary
Reviewer
Review Date
Reviewed Item
James Bond: The Body by Aleš Kot
Author Rating





Product Name
James Bond: The Body by Aleš Kot