About:
Batwoman, Vol. 2: To Drown the World by J.H. Williams III (Writer, Cover Artist), W. Haden Blackman (Writer), Amy Reeder (Illustrator), Trevor McCarthy (Illustrator), Rob Hunter (Illustrator), Pere Pérez (Illustrator), Richard Friend (Illustrator), Guy Major (Colourist) continues with the story of Kate Kane who took up the mantle of Batwoman. This graphic novel collects issues #6 – 11 of Batwoman from DC's New 52.
144 pages
Publisher: DC Comics
Language: English
ISBN-10: 1401237908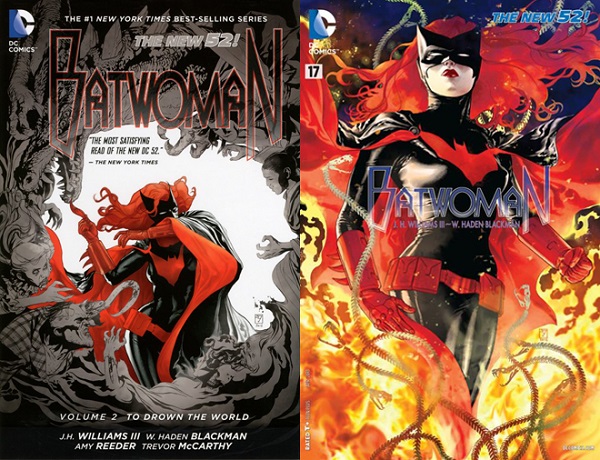 My rat­ing for Batwoman, Vol. 2: To Drown the World  — 3
Buy Batwoman, Vol. 2: To Drown the World  from Amazon.com*
More Books by J.H. Williams III
More Books by W.Haden Blackman
Thoughts:
After reading Batwoman, vol. 1: Hydrology I was very happy to continue the story-line. The second graphic novel, Batwoman, Vol. 2: To Drown the World by  J.H. Williams III and W. Haden Blackman (illustrated by Amy Reeder, Trevor McCarthy, Rob Hunter, Pere Pérez, and Richard Friend; colored by Guy Major) did not disappoint as it continued in the same vain as the first, but this time we know the characters better.
I felt this book was more complex than the previous graphic novel. It takes the reader a bit of an effort to figure out what's going one and the villains are just weird monsters and mutants – really not my usual cup of tea.
I give great credit to the writers and artists of this issue for trying to tell a different story in an interesting way. The timeline jumps every several pages from a few weeks before, to the "now", to two days ago, all while switching points of view telling the story through different eyes.
I feel the execution might have worked well for a single comic book issue, but in a collected format it seems confusing, almost random (which it's not – but that's the feeling I got), and disjointed. That being said, I give the artistic team much respect for trying something new and making the reader put in a bit of an effort.
The art, once again, was gorgeous and defined. The panels really helped to move the story forward, but I couldn't help but, again, be distracted by the acid wash white the heroine's skin is painted.
I really enjoyed the concept of having some of the villains be living urban legends be the part of the rouge gallery. So far the Batwoman series strikes me as telling a convential superhero story in an unconventional way and I'm looking forward for more.
Synopsis:
Kate Kane is getting deeper and deeper into a strange case of missing kids which might involve some paranormal elements. Meanwhile Gotham Detective Maggie Sawyer is helping Kate out, but could also jeopardize her own career.
To add more elements of conflict, the DEO is after the new Batwoman and a new villain, Maro, is loose in Gothma. All the while Kate Kane is trying to make the best-worst decision she can.
Buy Batwoman, Vol. 2: To Drown the World  from Amazon.com*
More Books by J.H. Williams III
More Books by W.Haden Blackman
Zohar — Man of la Book
Dis­claimer: I borrowed this graphic novel from a friend
*Ama­zon links point to an affiliate account
--- Please like and follow ManOfLaBook.com ---