About:
Batman: Preludes to the Wedding by Tim Seeley is a collection of stories where side characters in the Batman universe react to his upcoming wedding to Catwoman. This graphic novel collects Robin vs. Ra's Al Ghul #1, Nightwing vs. Hush #1,Batgirl vs. The Riddler #1, Red Hood vs. Anarky #1 and Harley Quinn vs. The Joker #1.
144 pages
Publisher: DC Comics
Language: English
ISBN-10: 1401286542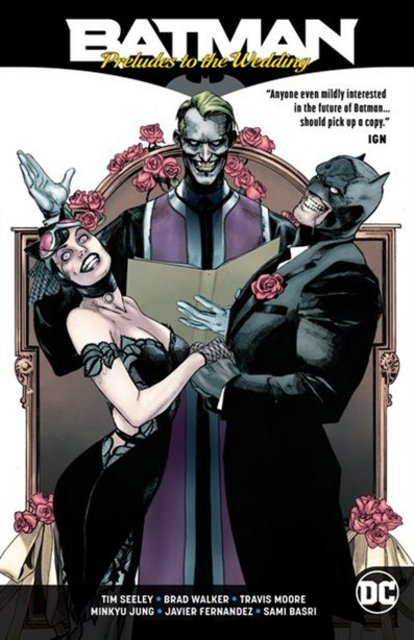 My rating for Batman: Preludes to the Wedding – 3
Buy Batman: Preludes to the Wedding from Amazon.com*
More Books by Tim Seeley
Thoughts:
The lead up to the Batman/Catwoman wedding is fantastic, one of the best graphic novel reads in the past several years. I was looking forward to read Batman: Preludes to the Wedding by Tim Seeley since I really enjoyed Tom King's story-line.
I knew this would be a pointless wedding cash grab before I even got this graphic novel, I have been reading comics for decades and know how this works. But you know, sometimes these cash grabs are very enjoyable, silly, and just pure fun.
This collection, five issues which differ in quality, is a mixed bag. I didn't think any story was absolutely stunning and certainly this isn't a "must" to read to stay in the comic-loop. That being said, I enjoyed the book and didn't feel as if is completely useless like many other tie-ins.
The art differs in every issue since they are drawn by different artists, still it's solid and I enjoyed the panels very much. Even though these are separate runs, I did feel the art was cohesive, I have no idea how that work out, but it did.
Even though this is a marketing ploy, I still enjoyed this book – I credit Tim Seeley for raising this collection up a notch above a mere money grab. A mixed bag, but a fun graphic novel leading up to the wedding.
Synopsis:
This graphic novel tells separate stories, all connected to the upcoming wedding of Batman (Bruce Wayne) and Catwoman (Selina Kyle). The Joker desperately wants an invitation to Batman's wedding, but his partner in a very one-sided and dysfunctional relationship, Harley Quinn, will have none of that.
Nightwing (Dick Grayson), the best man, is picking up the engagement ring when Hush shows up. Ra's Al Ghul is trying to get Damian Wayne (Robin) back, since he's now worried about his new step-mother, while Batgirl (Barbara Gordon) and the Riddler play a game of wits. On top of all that Anarky (Lonnie Machin_ makes fun of Red Hood (Jason Todd) because he is a "failed" Robin.
Buy Batman: Preludes to the Wedding from Amazon.com*
More Books by Tim Seeley
Zohar — Man of la Book
Dis­claimer: I got this book for free.
*Ama­zon links point to an affil­i­ate account
--- Please like and follow ManOfLaBook.com ---
Summary
Reviewer
Review Date
Reviewed Item
Batman: Preludes to the Wedding by Tim Seeley
Author Rating





Product Name
Batman: Preludes to the Wedding by Tim Seeley