About:
The Secrets of Mary Bowser by Lois Leveen is a historical fiction novel taking place before and during the American Civil War. Very little is known about Mary Bowser, a free slave who went back into Virginia to spy for the Union.
The pub­lisher is giv­ing away one copy of this book— use the form at the end of the post to enter.
496 pages
Publisher: William Morrow Paperbacks
Language: English
ISBN-10: 0062107909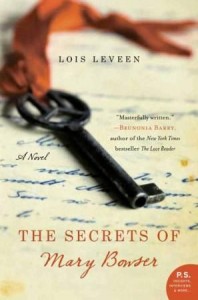 My rating for The Secrets of Mary Bowser – 5
Thoughts:
The Secrets of Mary Bowser by Lois Leveen (Website | Twitter | Facebook) is an interesting book about an interesting time. There is very little known about Mary Bowser, a free slave who went back to spy for the Union at Jefferson Davis' house during the Civil War.
Very little is known about Mary Bowser (even though her name as a spy was Ellen Bond, which didn't make it into this book), so there are many liberties taken with the character. This could be good or bad and could easily backfire at the author, however I think this time it worked and the author does a fine job not only with the characterization, but also describing the daily lives of free blacks during the era.
The first half of the book takes place before the war starts, the second half, where Bowser goes to work for Varina Davis, wife of Confederate President Jefferson Davis, is fascinating. The other historical characters in the book, such as Elizabeth Van Lew, an ardent abolitionist and Bowser's former owner who freed her, are also well written and interesting.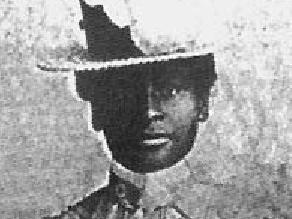 Picture thought to be of Mary Bowser
Despite the era and material, I didn't find the story too dark even though there are elements of violence. Ms. Leveen wrote her main characters as uplifting individuals, living hard lives during hard times.
It is difficult to write historical fiction novels, as there are many people (myself included) who will nitpick to no end, however, I do understand that historical fiction is a subgenre of fiction, not history. I would certainly suggest reading the excellent material in the back of the book where Ms. Leveen makes clear what is historically accurate, what is fictional and some more background.
Update 21 June, 2012:
Lois Leveen's article in the New York Times about Mary Bowser is published: A Black Spy in the Confederate White House
So tell me, do you like to read the author's note before reading the book?
Synopsis:
Based on a true story, Mary has been a slave to the Van Lew family in Richmond, VA. Bet Van Lew, the daughter and abolitionist, frees Mary and sends her to school in Philadelphia.
When a war seems imminent, Mary returns to Virginia, defying the law, to care for her ailing father. Posing as a slave in the Confederate White House, Mary puts her photographic memory to good use.
Buy this book in paper or in elec­tronic for­mat
Give­away
Give­away ends: May 23, 2012

US/Canada Ship­ping Addresses Only

No PO Boxes

Win­ners will have 24 hours to write back with their address, oth­er­wise an alter­nate win­ner will be picked
Congratulations: enamoredsoul@
TLC Book Tour for The Secrets of Mary Bowser:
Tuesday, May 15th: Bookworm's Dinner
Wednesday, May 16th: Man of La Book
Thursday, May 17th: A Cozy Reader's Corner
Monday, May 21st: Unabridged Chick Wednesday,
May 23rd: A Chick Who Reads
Thursday, May 24th: Life In Review
Friday, May 25th: "That's Swell!"
Monday, May 28th: Peeking Between the Pages
Tuesday, May 29th: Just Joanna
Wednesday, May 30th: Book Journey
Zohar — Man of la Book
Dis­claimer: I got this book for free from TLC Book Tours
Related articles
BOOK BLOGGERS – Have you read The Secrets of Mary Bowser? If so link up your review below:
--- Please like and follow ManOfLaBook.com ---