About:
The Risk Agent by Ridley Pearson is a fictional mystery/thriller taking place in China. The book is the first of a new series.
The pub­lisher is giv­ing away one copy of this book— use the Raf­fle­copter form at the end of the post to enter.
432 pages
Publisher: Putnam Adult
Language: English
ISBN-10: 0399158839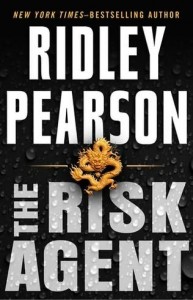 My rating for The Risk Agent – 4
Buy this book in paper or elec­tronic format
Thoughts:
The Risk Agent by Ridley Pearson (website | Twitter | Facebook | YouTube | Pinterest) is a whirlwind of a ride through the business world of China. While I don't know enough about the business world in that part of the world, that part of the novel certainly seemed authentic to me and made for a fascinating read.
It seems that in China many companies, especially those who are not based in China, have a habit of giving incentives to government officials in order to gain the upper hand in the bidding process, or simply just flat out to get a job. Much like elections "incentives" (campaign donations), the act is frowned on officially but it seems to be the standard operating procedure (SOP) with a large amount of recipients but only selective victims.
The Risk Agent is not a quick read by any means, the novel is plotted extremely well and takes time to digest and follow, but the reward of going on a great adventure is well worth the investment in time.
The two main characters, John Knox and Grace Chu, are fully developed and we get to know them before the final page is done. It is amazing at how much character development goes into this novel while running around the backstreets of Shanghai.
I have said time and time again and one of the main reasons I like espionage novels is that they are mostly gray. The line distinguishing bad from good are often blurred and horse hair thin. The novel's twists and turns had me guessing who is on whose side, what was most certain is that everyone has their own agenda which made the story more compelling.
An invigorating aspect of the book is the character of Grace Chu, a level headed accountant (and an ex-Chinese military). Contrasting Grace's cool head and world view with John Knox's impatience and impulsiveness added another interesting angle, as well as balance, to the story. While every partners story has some friction between the characters, I believe that this relationship
I believe that Mr. Pearson has created two of the most complex and fascinating characters which had the dubious pleasure of becoming partners. I, for one, am looking forward to their next exploits.
So tell me, who are your favorite fictional partners?
Synopsis:
The Rutherford Risk firm has a problem. They are trying to negotiate for a hostage which was taken in Shanghai, but are not allowed, by law, to investigate. The firm recruits two outsiders to bypass the Chinese laws, a dangerous game even when playing by the rules.
American Jon Knox, a civilian with military training, and Grace Chu, an accountant with military training, are put on the job. There are many things which are dangerous in corporate China, but following the money is certainly on top of the list.
Buy this book in paper or elec­tronic format
Give­away
Give­away ends: June 26, 2012

US/Canada Ship­ping Addresses Only

No PO Boxes

Win­ners will have 24 hours to write back with their address, oth­er­wise an alter­nate win­ner will be picked
Congratulations: harvee44@
Zohar — Man of la Book
Dis­claimer: I got this book for free
BOOK BLOGGERS – Have you read The Risk Agent? If so link up your review below:
--- Please like and follow ManOfLaBook.com ---