Article first published as Book Review: No One is Here Except All of Us by Ramona Ausubel on Blogcritics.
About:
No One is Here Except All of Us by Ramona Ausubel is a fictional book taking place during World War II. The book follows a small group of Jewish villagers who lives in a town on a river bank.
The pub­lisher is giv­ing away one advanced readers copy (ARC) of this book— enter at the end of the post.
336 pages
Publisher: Riverhead Hardcover
ISBN: 1594487944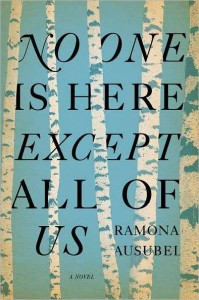 My rating for No one is Here Except All of Us – 4
Great price on this book in paper or elec­tronic for­mat
through the Man of la Book Affil­i­ate Account
Check out this & more World War II books on Man of la BookStore
Thoughts:
No One is Here Except All of Us by Ramona Ausubel (website) is a very lyrical and poetic book. The story flows, is unique and fascinating. Most of the time I read the book I felt as if I, or the protagonist, were dreaming, however, upon reading the author's note it turned out that many of the events are based on what Ms.Ausubel's great grandmother experienced during World War II.
The premise of the book is interesting, something I haven't read yet. At first it was hard for me to process the story, I'm just too logical, but the more I read, the easier it go and I started to let go and enjoy the story more and more.
Ms. Ausubel managed to create a world within a world through her characters which sucked me into as well. I would almost be tempted to categorize this book under "magic", but I wouldn't go as far and neither does the book itself.
Without giving anything away, I was surprised by the ending, which is not sappy or the mandatory feel-good type we come to expect. Even if you wouldn't like the story, you'd love the prose.
Books in similar vein:
Adam & Eve by Sena Jeter Naslund
The Fifth Servant by Kenneth Wishnia
A Long, Long Time Ago and Essentially True by Brigid Pasulka
The Polski Affair by Leon H. Gildin
Purge by Sofi Oksanen
So tell me, do you like reading books without the obligatory happy endings?
Synopsis:
In a remote Jewish village, located on a river bank, the war is closing in on them. After thousands of years of moving, escaping and being expelled suddenly, in 1939, it seems that there is nowhere to go.
The answer to the village's dilemma comes from an eleven year old girl and a mysterious stranger – they will reinvent the world.
Great price on this book in paper or elec­tronic for­mat
through the Man of la Book Affil­i­ate Account
Check out this & more World War II books on Man of la BookStore
Give­away
Give­away ends: February 05, 2012

US/Canada Ship­ping Addresses Only

No PO Boxes

Win­ners will have 24 hours to write back with their address, oth­er­wise an alter­nate win­ner will be picked
Congratulations: jtretin@
Zohar – Man of la Book
Disclaimer: I got this book for free
Related articles
BOOK BLOGGERS – Have you read No one is Here Except All of Us? If so link up your review below:
--- Please like and follow ManOfLaBook.com ---