About:
Blue Asylum by Kathy Hepinstall is a fictional book taking place in an insane asylum during the American Civil War. The lines between insanity and sanity are always blurred and this is especially true during war time.
The pub­lisher is giv­ing away one copy of this book— use the form at the end of the post to enter.
288 pages
Publisher: Houghton Mifflin Harcourt (April 10, 2012)
Language: English
ISBN-10: 0547712073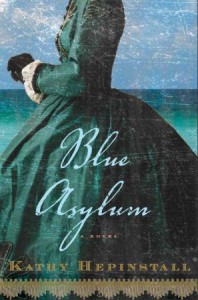 My rating for Blue Asylum – 4
Buy this book in paper
 or in elec­tronic format.
Thoughts:
Blue Asylum by Kathy Hepinstall (website | blog) is a solid story which blurs the lines between what's real & imaginary, sane & insane and right and wrong. The novel is short and fast paced with clear writing and excellent characterization. I could vividly see the characters, scenery and settings in my mind's eye.
This is an intriguing book with compelling writing. Ms. Hepinstall has a wonderful linguistic gift which makes her work enjoyable to read. There are many themes to the book sanity, slavery, love, and more.
What is it like being sane in an insane world and being insane in an insane world are some of the subjects that are being touched on.
The character which I found most disturbing is Dr. Cowell, the superintendent of the asylum. Dr. Cowell is not a sadist, he is a good man and a good doctor who really believes his theories about the superiority of men over women. Dr. Cowell spends a lot of his time and money on helping the folks in the asylum – sometimes at the expense of his own family.
Yet Dr. Cowell cannot help his wife who is going mad, his son who is a self-professed lunatic (he's not) and strongly believes in a method of torture to "help" the patients which he cares so much about and prescribes large amounts of medication to. Dr. Cowell also believes that those who live outside the norms of society are "insane". A strange belief for a person who spent his life working outside the system and who works in a field where disproving previous theories is one of the few ways to make breakthroughs.
The hypocrisy, cynicism and unbeknownst to them sinister acts of a good person is something I find scary and, unfortunately, witness almost daily.
I enjoyed reading this book very much, but even though the author certainly shows a mastery of the English language, I felt that sometimes the symbolism and metaphors were more in-your-face in a novel which issues are not brought up and in an era where subtlety was key.
So tell me, what is your favorite book which blurs the lines between insanity and sanity?
Synopsis:
During the American Civil War Iris Dunleavy, wife of a Virginia plantation owner, was put on trial and found to be insane. Mrs. Dunleavy was sent away to Sanibel Asylum to return to her former self of a compliant woman.
Confederate solider Ambrose Weller is terrorized by memories which can only be calmed by thinking of the color blue – until he meets Iris. Together Iris and Ambrose fetch a plan to escape.
Buy this book in paper
 or in elec­tronic format.
Give­away
Give­away ends: April 17, 2012

US/Canada Ship­ping Addresses Only

No PO Boxes

Win­ners will have 24 hours to write back with their address, oth­er­wise an alter­nate win­ner will be picked
Congratulations: lomazowr@
TLC Book Tour for Blue Asylum:

Tuesday, April 10th: Man of La Book
Wednesday, April 11th: Veronica MD
Thursday, April 12th: Broken Teepee
Monday, April 16th: Hopelessly Devoted Bibliophile
Tuesday, April 17th: The Lit Witch
Wednesday, April 18th: Life is Short. Read Fast.
Thursday, April 19th: Brandi Reads
Tuesday, April 24th: Reading Lark
Wednesday, April 25th: Hospitable Pursuits
Thursday, April 26th: My Book Retreat
Friday, April 27th: "That's Swell!"
Monday, April 30th: Elle Lit
Tuesday, May 1st: The House of the Seven Tails
Wednesday, May 2nd: BookNAround
Thursday, May 3rd: Library of Clean Reads
Friday, May 4th: Book Journey
Wednesday, May 8th: Literature and a Lens
Zohar – Man of la Book
Dis­claimer: I got this book for free from TLC Book Tours
Related articles
BOOK BLOGGERS – Have you read Blue Asylum? If so link up your review below:
--- Please like and follow ManOfLaBook.com ---