Article first published as Book Review: The Ruins of Us by Keija Parssinen on Blogcritics.
About:
The Ruins of Us by Keija Parssinen is a fictional book set in Saudi Arabia. The book is a character study of marriage in the midst of a culture clash.
The pub­lisher is giv­ing away one copy of this book— enter at the end of the post.
352 pages
Publisher: Harper Perennial; Original edition
ISBN: 0062064487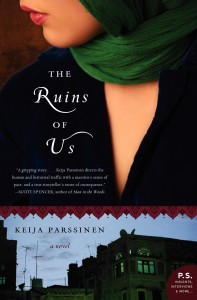 My rating for The Ruins of Us – 4
Great price on this book in paper or elec­tronic for­mat
through the Man of la Book Affil­i­ate Account
Thoughts:
The Ruins of Us by Keija Parssinen (website | Facebook | Twitter) starts off slow but picks up towards the end. The protagonist, Rosalie, finds out that her loving husband has hidden a second wife from her, but Rosalie is a Texas girl.
The interesting part, for me, is the descriptions of a part of the world which, unfortunately, I will most likely never get to visit and that of a foreign culture. The descriptions of the beautiful and not-so-beautiful parts of Saudi Arabia were wonderfully written and the cultural issues expatriates have to deal with were fascinating.
The characters were engaging and some even likeable, but I felt that the story could have used a bit more emphasis on the cultural implications and acceptance of polygamy. I would have liked to read more about the relationship between the two women and about the second wife, her thoughts and feelings and cultural acceptance.
One of the things that really struck home is Rosalie's rose colored view of her childhood world. Rosalie grew up in Saudi Arabia as a child and then her parents moved back to the US. Remembering her childhood Rosalie wanted to go back and live in Saudi Arabia and has done so with all the good and bad it entails. I know that I still feel a longing to my childhood birth place, however when I go there it's not the same and I know that it will never be.
So tell me, have you ever went back to a place you remember from childhood? What did you find out?
This book reminded me of:
The Secret Lives of Baba Segi's Wives by Lola Shon­eyin
 Synopsis:
American born Rosalie grew up in an army base in Saudi Arabia. In college Rosalie met and fell in love with Abdullah Bayla who married her and they decided to raise a family in Saudi Arabia.
Rosalie discovers that Abdullah has taken a second wife. While Abdullah and Rosalie are involved in their own personal mass, they don't pay attention to their sixteen year old son, Faisal, who is becoming more and more extreme.
Great price on this book in paper or elec­tronic for­mat
through the Man of la Book Affil­i­ate Account
Give­away ends: February 14, 2012

US/Canada Ship­ping Addresses Only

No PO Boxes

Win­ners will have 24 hours to write back with their address, oth­er­wise an alter­nate win­ner will be picked






Congratulations:singitm@
TLC Book Tour for The Ruins of Us:
Tuesday, January 17th: Book Hooked Blog
Wednesday, January 18th: Take Me Away
Thursday, January 19th: Broken Teepee
Friday, January 20th: Bibliosue
Monday, January 23rd: Book Club Classics!
Tuesday, January 24th: Wandering Thoughts of a Scientific Housewife
Thursday, January 26th: Peeking Between the Pages
Tuesday, January 31st: Col Reads
Wednesday, February 1st: The House of the Seven Tails
Thursday, February 2nd: Raging Bibliomania
Monday, February 6th: Library of Clean Reads
Tuesday, February 7th: Man of La Book
Wednesday, February 8th: 2 Kids and Tired Book Reviews
BOOK BLOGGERS – Have you read The Ruins of Us? If so link up your review below:
--- Please like and follow ManOfLaBook.com ---