About:
Thomas Jefferson's Crème Brûlée: How a Founding Father and His Slave James Hemings Introduced French Cuisine to America by Thomas J. Craughwell is a non-fiction book which covers the time Jefferson spent as an ambassador in Europe from a culinary point of view. At the time, Hemings was 20 years younger then Jefferson and brother to the young Sally Hemings.
The pub­lisher is giv­ing away one copy to three (3) winners of this book –to enter fill out the Raf­fle­copt­ter form at the end of the post
256 pages
Publisher: Quirk Books
Language: English
ISBN-10: 1594745781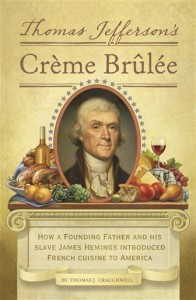 My rating for Thomas Jefferson's Crème Brûlée –

4
Thoughts:
I was excited to read Thomas Jefferson's Crème Brûlée: How a Founding Father and His Slave James Hemings Introduced French Cuisine to America by Thomas J. Craughwell, I have read a few books about Thomas Jefferson but never from this perspective. I even went to the local liquor store and picked up Thomas Jefferson's Tavern Ale from the Yards Brewing Co. in preparation (an ale made from recipes found in a tavern by Monticello which Jefferson used to frequent.  Smooth, medium body, unique, bitter and interesting).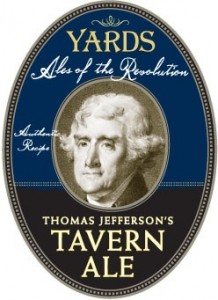 The introduction to Jefferson's culinary palate was actually a children's' book I bought our daughter before we went to Monticello (Jefferson's home) which quickly became a family favorite. The book, Thomas Jefferson's Feast by Frank Murphy,  has 2-3 pages about Jefferson's dumb waiter which was the big draw for my kids during the tour.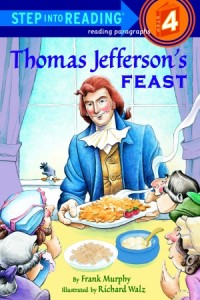 It is well known that Thomas Jefferson liked the good things in life, wine, cheese, food and company. While this book is not an academic treatment of the Founding Father it is a very interesting book about a fascinating man who found himself in the middle of history making events on both sides of the Atlantic.
The story revolves around Jefferson's time in Europe, especially France and, as the title suggests, concentrates on his culinary exploits as well as an overview lesson in the French Revolution. The other main character in the book is Jefferson's slave, James Hemming, who mastered French cooking and the French language. After finishing to read this book, I actually wanted to learn more about James who seems to me never got his full due for introducing the French cuisine to America.
I loved the culinary anecdotes in the book, the introduction of the potato to Europe,  Jefferson's developing taste in wine , such exotic dishes as pommel frites (French fries) and macaroni and cheese (which were served in fancy dinners). I did not realize that in exchange for James mastering the secrets of the French kitchen, Jefferson promised him his freedom (and eventually even made good on the promise) as long as he taught other slaves his skills.
I found the book lacking on the culinary exploits of Mr. Jefferson until I read the appendix. Strangely enough, the appendix was what I was expecting the book to be and added much to the narrative and tied up the book together nicely.
The book is short (less than 200 pages including the appendix) with a few recipes to boot and is an excellent addition to any library, culinary or history. The relationship between Jefferson and Hemings is one of the strangest, yet productive one I have encountered  during my readings on this particular time period.
Related Reads:
Amer­i­can Sphinx: The Char­ac­ter of Thomas Jef­fer­son by Joseph J. Ellis
Synopsis:
Thomas Jefferson is known as a man of many roles: Founding Father, philosopher, politician, President, slave owner and gentleman farmer. But Jefferson was also a gourmand. In 1784, when appointed to be a minister in France, Jefferson, accompanied by his slave James Hemings embarked on a grand adventure with many historical outcomes.
While James Hemings was learning to be a master chef, Jefferson became familiar with French cuisine, wine, culinary tools and gadgets as well as agricultural cultivation techniques. When the two men returned, they brought with them a colorful narrative as well as new delicacies such as pasta, French fries, champagne, macaroni and cheese and, of course, crème brûlée.
Give­away
Give­away ends: Octo­ber 15 2012

US/Canada Ship­ping Addresses Only

No PO Boxes

Win­ners will have 24 hours to write back with their address, oth­er­wise an alter­nate win­ner will be picked
Congratulations:name as email@, bringhamsweeps@, mbaron@
Zohar – Man of la Book
Disclaimer: I got this book for free.
*Ama­zon links point to an affil­i­ate account
BOOK BLOGGERS – Have you read Thomas Jefferson's Crème Brûlée? If so link up your review below:
--- Please like and follow ManOfLaBook.com ---