About:
The New Republic by Lionel Shriver is a novel about the nature of journalism. This is Shriver's 11th novel, she is a journalist and author who currently calls England her home.
The pub­lisher is giv­ing away one copy of this book –to enter fill out the Raf­fle­copt­ter form at the end of the post.
400 pages
Publisher: Harper
Language: English
ISBN-10: 0062103326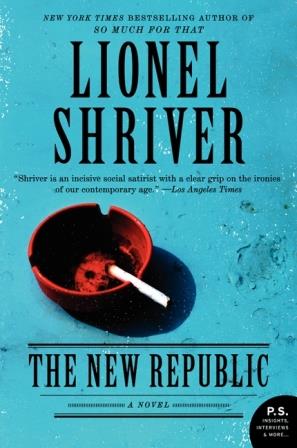 My rating for The New Republic – 2
Buy this book in paper or electronic format
More books by Lionel Shriver
Thoughts:
I jumped on the chance to read The New Republic by Lionel Shriver (Facebook) because I tremendously enjoyed the author's so much for that, the novel grabbed me from the same page and I felt as if Ms. Shriver wrote the book especially for me. For my friends who are avid readers, you know what a special feeling it is.
When I read the synopsis I thought it would be a book I'd like. A cynical guy like me who realizes that half the news out there are simply made up (FOX and CNBC – I'm looking at you) as well as heard from firsthand accounts when CNN reporters told public officials that unless they release a statement, they'll simply make one up and attribute it to them. The book sounded much in the style of so much about that, a good mix of fiction and realistic misery.
As hard as I tried, I could not enjoy this book. The characters were boring, none I could relate to or likeable. I almost put the book down the first half because it simply lingered on and on without much development with few twists.
This novel does bring up many good questions about the roles journalists play in the media and how they manipulate the "news". How journalists' self-interests supersedes the public's need-to-know, how stories are spun and more.
Ms. Shriver is a talented writer, however this novel was simply not for me. The jokes were clever but it didn't work because the reader was always a step behind the characters, looking from the outside but never part of the inner circle and the ending simply left me unfulfilled.
Synopsis:
An organization called SOB from a fictional part of Portugal called Barba is trying to gain independence  and stop the Muslim immigration by terrorizing parts of the world. However, the attacks seemed to stop and journalists assigned to Barba have nothing to do beside discussing a fellow journalist named Barrington Saddler.
In comes Edgar Kellogg who is Saddler's replacement. Kellogg feels that he has to fill the shoes of a legend but somehow manages to out due Saddler's stupid behavior with even less journalistic integrity then previously thought.
Buy this book in paper or electronic format
More books by Lionel Shriver
Give­away
Give­away ends: April 10, 2013

US/Canada Ship­ping Addresses Only

No PO Boxes

Win­ners will have 24 hours to write back with their address, oth­er­wise an alter­nate win­ner will be picked
Congratulations: ayancey@
TLC Book Tour for The New Republic by Lionel Shriver:
Tuesday, April 2nd: The House of the Seven Tails
Wednesday, April 3rd: Man of La Book
Thursday, April 4th: Melody & Words
Monday, April 8th: The Scarlet Letter
Tuesday, April 9th: Take Me Away
Wednesday, April 10th: Sophisticated Dorkiness
Thursday, April 11th: she treads softly
Tuesday, April 16th: Becca's Byline
Monday, April 22nd: Lit and Life
Thursday, April 25th: I Read a Book Once
Friday, April 26th: Luxury Reading
Zohar — Man of la Book
Dis­claimer: I got this book for free from TLC Book Tours.
*Ama­zon links point to an affil­i­ate account
--- Please like and follow ManOfLaBook.com ---