About:
The Mirrored World by Debra Dean is a fictional account of the life of St. Xenia. The novel takes place in St. Petersburg, Russia during the 18th Century.
The pub­lisher is giv­ing away one copy of this book— use the Raf­fle­copter form at the end of the post to enter.
256 pages
Publisher: Harper
Language: English
ISBN-10: 0061231452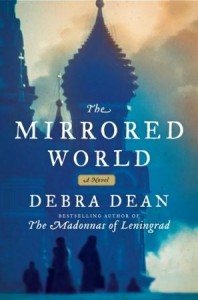 My rating for The Mirrored World – 2
Buy this book in paper or electronic format
Thoughts:
The Mirrored World by Debra Dean (Facebook) is has an interesting premise – the life of a Russian saint. This is one of those books where everything is wonderful, but for me the sum of the parts simply didn't come together to create a whole.
The subject is interesting, the time period fascinating, the writing is lyrical and the novel certainly captures a dreamy state of time and place. However, the book simply failed to capture my interest.
Even though I appreciated the styling, effort and talent that went into the writing, I found myself having a difficult time reading the novel. I never got vested in any of the characters, I simply didn't care about them at all.
The best thing about the book is the way Ms. Dean sets up her scenery, every time I got my nose out of the book I expected to look out the window and see the bleak streets of St. Petersburg. The hopelessness and sadness of the residents resonates off the pages and into your head.
The real disappoint though was the wasted opportunity for an interesting novel. I don't feel I learned anything about Xenia since the story is told from the point of view of her cousin. The story is there, but we never learn the motivation behind her actions. Was Xenia crazy? Depressed? Guilty of her life compared to the poor rabbles outside her door?
We never find out.
Ms. Dean is certainly a wonderful writer, she can string words and sentences together for a compelling narrative. Even though this book didn't work for me, I am looking forward to read more of her works in the future.
Synopsis:
Xenia was born to a lower nobility class in Russia, she falls in life with a soldier and a singer in the Imperial choir named Andrei. Even though their marriage is a happy one, the couple's life is difficult due to the ridiculous demands by the court they are serving.
Xenia's  dreadful visions come true and she descends into depression and goes through a profound transformation. She starts giving away all her earthly possessions until one day she simply disappears.
Buy this book in paper or electronic format
Give­away
Give­away ends: Sep­tem­ber 20, 2012

US/Canada Ship­ping Addresses Only

No PO Boxes

Win­ners will have 24 hours to write back with their address, oth­er­wise an alter­nate win­ner will be picked
Congratulations: Name as email
TLC Book Tour for The Mirrored World by  Debra Dean:
Tuesday, August 28th: Historical Tapestry – "Why I Love …" Guest Post
Wednesday, August 29th: Reflections of a Bookaholic
Thursday, August 30th: Unabridged Chick
Monday, September 3rd: Lit and Life
Wednesday, September 5th: Diary of an Eccentric
Thursday, September 6th: Booktalk & More
Monday, September 10th: The Book Garden
Wednesday, September 12th: Chaotic Compendiums
Thursday, September 13th: Man of La Book
Thursday, September 13th: No More Grumpy Bookseller
Monday, September 17th: BookNAround
Tuesday, September 18th: Twisting the Lens
Wednesday, September 19th: A Library of My Own
Thursday, September 20th: The Written World
Monday, September 24th: Broken Teepee
Tuesday, September 25th: West Metro Mommy
Wednesday, September 26th: Peeking Between the Pages
Thursday, September 27th: Raging Bibliomania
Zohar – Man of la Book
Dis­claimer: I got this book for free from TLC Book Tours
BOOK BLOGGERS – Have you read The Mirrored World? If so link up your review below:
--- Please like and follow ManOfLaBook.com ---