About:
Rally 'Round the Corpse by Hy Conrad is a fictional mystery and it seems to be the first of a series. I jumped on the opportunity to read this book because Mr. Conrad is the writer for the TV show Monk which is, in my opinion, one of the best written shows on TV.
The pub­lisher is giv­ing away one copy of this book –to enter fill out the Raf­fle­copt­ter form at the end of the post.
348 pages
Publisher: Seven Realms Publishing
Language: English
ISBN-10: 0983735042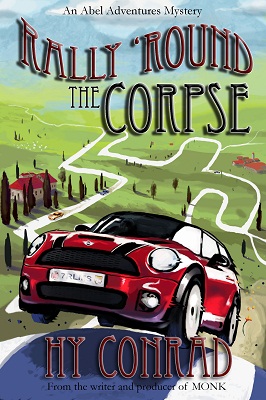 My rating for Rally 'Round the Corpse – 4
Buy this book in paper or in elec­tronic format*
More Books by Hy Conrad
Thoughts:
Rally 'Round the Corpse by Hy Conrad (website | Facebook) is an enjoyable novel which is easy to read, doesn't take itself too seriously and tells a story with humor and energy. I read the book with the author's sense of humor in mind, as a fan of Monk I might have had an advantages over other readers since I thought that some of the lines which to others might sound over-the-top cheesy, were funny.
""Amy thought of her double bottom drawer as a black hole, sucking in anything and everything….it was an informal storage system, but it filled the gap between the formality of her files and the abyss of the wastebasket."
As you can see, if you read this line in a manner which is too serious or high-brow you'll miss the wit and humor of the book. The cast of characters bring people from all walks of life (some rich, some are taking the vacation of lifetime) which makes the interaction funny and unique. A Southern heiress combined with a NYPD detective who doesn't curse.
The book is not fast paced, but move at a descent speed and is a nice, light book to read over the weekend or when your life gets hectic. The mystery, at first, seems simple and the author writes in a few almost too obvious  scapegoats, but gets more fun as the true killer is revealed with a slight twist.
The novel is well written, the banter is lighthearted and the narration and dialog are both balanced. I'm looking forward to read more of Mr. Conrad's books and the facetious adventures of Amy Able.
Synopsis:
Amy Able, still on the rebound, runs a travel agency with her mother, Fanny.  The agency runs a Monte Carlo to Rome Mystery Road Rally to pampered guests who like murder mystery games. Soon after the game begun, the eccentric creator, the only one who knows the answer, mysteriously dies in his New York apartment.
The game becomes real when one of the guests die and Amy realizes that the mystery is actually based on a real-life unsolved crime.
Buy this book in paper or in elec­tronic format*
Give­away
Give­away ends: February 10, 2013

US/Canada Ship­ping Addresses Only

No PO Boxes

Win­ners will have 24 hours to write back with their address, oth­er­wise an alter­nate win­ner will be picked
Congraulations: cpita07@
Premier Virtual Author Book Tours  for Rally 'Round the Corpse by Hy Conrad :
Zohar — Man of la Book
Dis­claimer: I got this book for free from Premier Virtual Author Book Tours.
*Ama­zon links point to an affil­i­ate account
--- Please like and follow ManOfLaBook.com ---