About:
Only One Life by Sara Blædel is a fictional mystery book set in Denmark. This is the second book translated into English in the series featuring Detective Louise Rick.
The pub­lisher is giv­ing away one copy of this book— use the Raf­fle­copter form at the end of the post to enter.
352 pages
Publisher: Pegasus
Language: English
ISBN-10: 1605983500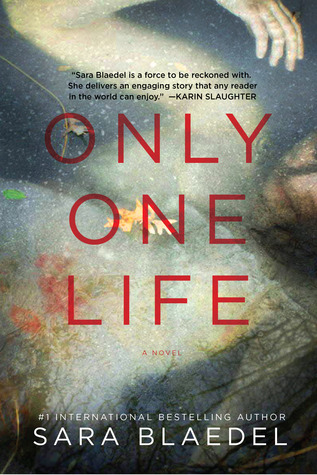 My rating for Only One Life – 4
Thoughts:
Only One Life by Sara Blædel (website | Facebook | @sarablaedel) lives up to the previous novel, Call Me Princess, which I read about a year ago and enjoyed as well. The book is exciting and the characters are well written and continue to build up and expand from the previous book (even though I understand that there are more untranslated books).
The book touches on some relevant topics, such as honor killing, social intolerance and sexual based crimes. The author explores these subjects, and more, without forcing her own morality or ideology down the readers' throats, which is a big plus for me. I love to read about different cultures and ideas, but I dislike absolutes. Ms. Blædel stays away from giving advice but supplying plenty of material to think about during and after reading.
There are several things I like about Ms. Blædel's work, the social aspect and characterization come immediately to mind. The author writes about a conscious society, while not perfect it certainly isn't the dog-eat-dog world which we read about in other books. I also like the character of Louise Rick, not a classic hero nor is she an anti-hero, just a simple working professional who makes mistakes, gets emotional, sometimes frustrated with her jobs, colleagues and her friends.
Basically, a human being.
Only One Life is an intelligent mystery, with a murder as a device to tell a story about people while bringing up some important questions. The book is solid, well translated and readable which is an amazing feat due to the heavy subjects it tries to deal with.
Related Reads:
Call Me Princess by Sara Blædel
So tell me, do you like books with social commentary?
Synopsis:
When a young girl is found in a watery grave of Holbraek Fjord , Inspector Louise Rick is called due to her experience, knowledge and tactfulness with immigrants. The dead girl, as it turned out, is Samra, who lived in a new country, while her parents enforced old traditions. Samra's mother maintains that she did nothing to "deserve" an honor killing, but Inspector Rick can detect that there is more than meets the eye.
Give­away
Give­away ends: July 25, 2012

US/Canada Ship­ping Addresses Only

No PO Boxes

Win­ners will have 24 hours to write back with their address, oth­er­wise an alter­nate win­ner will be picked
Congratulations: wynterrayne@
Zohar – Man of la Book Disclaimer: I got this book for free. BOOK BLOGGERS – Have you read Only One Life? If so link up your review below:
--- Please like and follow ManOfLaBook.com ---