About:
More Than a Soldier: One Army Ranger's Daring Escape From the Nazis by D.M. Annechino is a biography of Angelo J. DiMarco, a US Army Ranger during World War II. This is a personal book, one written by the family to capture the history of their father for future generations.
Win a $25 Amazon gift card (open to USA & Canada – one winner)  – Ends June 24 – Enter Below
316 pages
Publisher: CreateSpace Independent Publishing Platform (April 11, 2017)
Language: English
ISBN-10: 1544840950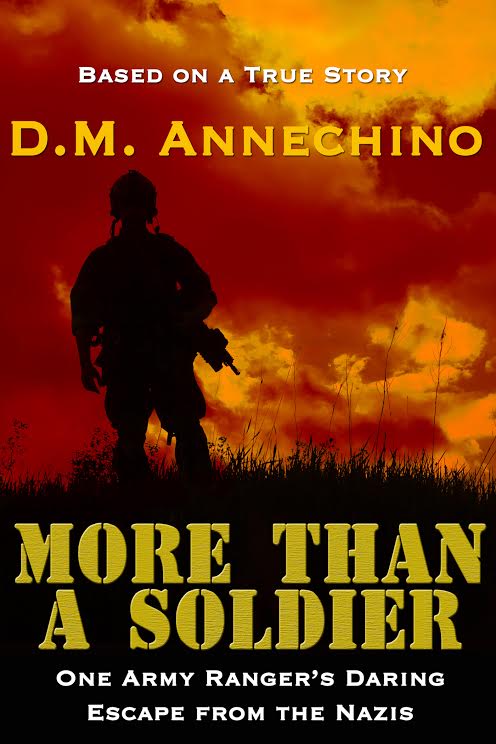 My rat­ing for More Than a Soldier  — 5
Buy More Than a Soldier from Amazon.com*
More Books by D.M. Annechino
Check out this & more World War II books on Man of la BookStore
Thoughts:
I love books like More Than a Soldier: One Army Ranger's Daring Escape From the Nazis by D.M. Annechino, they are fascinating and personal, along with a good chunk of history thrown in.
The story takes place during World War II, but the war is just a backdrop to this admirable, and well written, story. The reader learns about Mr. DiMarco's family, his reasons for signing up, his training, first kill, capture and ultimate survival evading the Nazis.
I would have liked to read more about what happened to the people who helped Mr. DiMarco during his ordeal, especially the Italian family he stayed with. But this is just me as a reader, not a family member reading about their beloved, understanding where he came from and where they are going – after all, the value and importance of family comes up in this book often.
The story is told in a first person narrative, is fast and an easy read. Reading of the tragedy at Cisterna from a firsthand source added to the sad outcome of the battle, and brought the war to the front and center of the book.
I finished this book in two days. It is an amazing and personal journey that gets better as it moves along. Mr. Annechino draws the people so those of us, who have no personal connection, feel like we know them.
I have to commend Mr. DiMarco's son, Steven, for being proactive and getting his father to tell his story. I'm positive that this effort will pay dividends in years to come and would become a treasured family history.
Buy More Than a Soldier from Amazon.com*
More Books by D.M. Annechino
Check out this & more World War II books on Man of la BookStore
Zohar — Man of la Book
Dis­claimer: I got this book for free from Italy Book Tours
*Ama­zon links point to an affil­i­ate account
--- Please like and follow ManOfLaBook.com ---