About
In part, Focusing Emptiness is about the decisions we make, and specifically, the way our defenses can influence these decisions, often affecting the direction our life takes.
One of the earliest life-changing decisions I made was at sixteen, during the height of the Vietnam War, when I decided to enlist in the Marine Corps. And when I look back and ask myself now about  what could have possibly motivated me to make that decision, I can see precisely the kinds of archetypal fantasy structures at work that I talk about in the book.
I can still hear the small voice inside me at  that time, calling to me, telling me that something wasn't quite right about what I was doing. This was the voice from the lost child.
You may have heard your own lost child somewhere along the way. It's comes as a faint intuition, perhaps more a feeling than a sound. It's one of those things we tend to brush aside, tend to rationalize away. It calls out, asking that you turn toward it… especially during those times when the your defenses are most activated.
As long as this voice goes un-heard, the un-seen hand of one's defenses will continue to shape one's  decisions, appearing for all the world as "fate."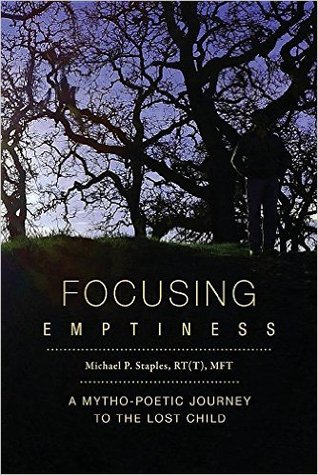 Writing Process
There were times, in the writing of Focusing Emptiness, that my soul was shaken to its core.
I knew during these times that the story should not be interrupted, but should be told precisely as dictated. Therefore, the narrative its self contains no jargon or analysis.
The book requires no background, or even interest, in the meditations of psychology. Its analytical framework is entirely contained within the Epilogue.
My hope and wish for the reader interested in psychology is not so much that my book provides new academic insights, but that its overall effect will help to illuminate the shadowed corners of the reader's own life story.
There are times while writing when I feel as if I am hearing music — the kind of music that captures your soul, and brings you to your knees in tears of emotion. These are times when writing is like playing music, where the ebb and flow of what happens on paper is magic… and I wonder how anything could possibly compare.
Trigger To Write
It was the book "Wild" that served as my trigger to write the book, for some reason. I'm not sure why. My book isn't about backpacking. But something reached up and grabbed me. I dropped the book I had been working on for 3 years, called my editor and told her I was starting over. The "idea" took another six years to get down on paper.
Completing this book took a total of some nine years of obsessive soul-searching, getting up in the middle of the night to get something down on paper that popped up in a dream, and being able to think about very little else. It's funny that the book turned out to be so short after all that.
Give­away
Give­away ends: December 26, 2016


Winners must have a valid e-mail address

US Address Only please

Win­ners will have 24 hours to write back with their address, oth­er­wise an alter­nate win­ner will be picked
Giveaway is over
--- Please like and follow ManOfLaBook.com ---