Walter de la Mare (25 April, 1873 – 22 June, 1956) was an English poet, short story writer and novelist.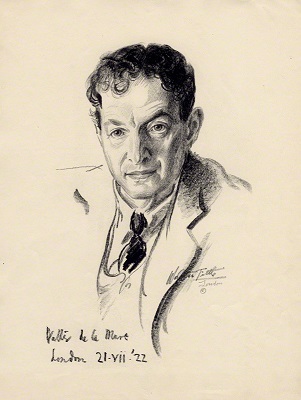 Books by Walter de la Mare
Mr. de la Mare is a decedent of the French Huguenots.
He is the grandson of Scottish naval surgeon and author Dr Colin Arrott Browning.
The author's occupation, before getting a pension to write full time, was that of an accountant.
Mr. de la Mare didn't like the name "Walter" and preferred to be called "Jack".
Elfrida Ingpen, his wife, was 10 years older. They met at the Esperanza Amateur Dramatics Club.
The author's first book, Songs of Childhood, was published under the nom-de-plume Walter Ramal.
The author believed that "Children are, in short, visionaries."
He also wrote ghost and supernatural stories.
Mr. de la Mare 1921 novel Memoirs of a Midget won the James Tait Black Memorial Prize for fiction and his post-war Collected Stories for Children won the 1947 Carnegie Medal for British children's books.
One a choirboy at St. Paul's Cathedral, Mr. de la Mare's ashes now preside there.
Zohar – Man of la Book
--- Please like and follow ManOfLaBook.com ---