Voltaire was the nom de plume of François-Marie Arouet (21 November, 1694 – 30 May, 1778), a French philosopher, writer and a historian known for his wit and attacks on the established Catholic Church.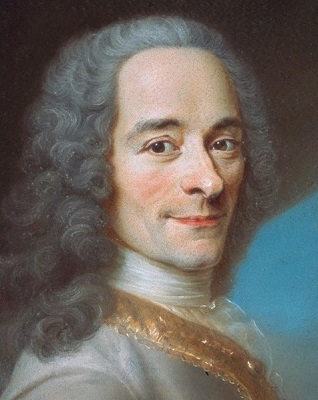 Portrait of Voltaire by Maurice Quentin de La Tour
The name Voltaire, which the author started using in 1718, is an anagram of "AROVET LI," the Latinized spelling of Arouet and the initial letters of "le jeune" ("the young"). Many saw the adoption of the name, which followed his incarceration at the Bastille, as a formal separation from his family and past.
One of Voltaire's mistresses was his niece, Marie-Louise Denis.
Voltaire was 39 he started his famous 16 year love affair with Mme du Châtelet, 27 years old and mother of 3.
Benjamin Franklin was one of Voltaire's best friends.
Voltaire was chased out of some countries at bayonet point.
Voltaire was very sickly as a child and as an elderly gentleman.
Voltaire spoke 5 languages.
Voltaire was a millionaire by the time he was 40
He wrote his first play in prison.
The book, Philosophical Letters, was banned in France.
Zohar – Man of la Book
--- Please like and follow ManOfLaBook.com ---