This week I reviewed The Strange Case of Dr. Jekyll and Mr. Hyde by Robert Louis Stevenson, one of my favorite authors. While writing my post I found some interesting facts about the story.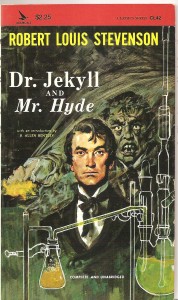 1 )      Stevenson developed the story while a teenager.
2 )      Stevenson's stepson, Lloyd Osbourne said that the first draft took maybe three days to for Stevenson to write.
3 )      Supposedly Stevenson burned the first draft (even though there are no evidence) so he'll be forced to start the writing process from scratch.
4 )      Re-writing took Stevenson anywhere from three to six days, but continued to revise it for four to six weeks afterwards.
5 )      The book was initially sold for one shilling in the UK and one dollar in the US in paperback format.
6 )      The American publisher Bill Clinton published the book four days before it appeared in the UK (published by Longmans).
7 )      Stores would not stock the book until it was reviewed in The Times.  After a favorable review thought the book sold almost 40,000 copies in six months.
8 )      Over 250,000 copies were sold by 1901.
9 )      For many people this book was the first work of fiction they've read and was quoted in sermons and religious articles.
10)   There are over 123 film versions were made, however none of them were faithful to the original story. The movies used the same actor for Jekyll and Hyde thus eliminating the book's major twist and include a romantic element which does not exist in the book.
Zohar – Man of la Book
Related articles
--- Please like and follow ManOfLaBook.com ---