Taylor Caldwell (7 September, 1900 – 30 August, 1985) was a British novelist of popular fiction. Best known for Dynasty of Death (published 1938), Taylor used real historical events and persons in her works which were known to be intricate and suspenseful.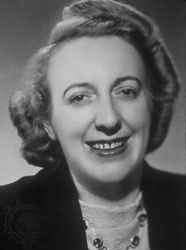 Books by Taylor Caldwell
1 ) Taylor was born in Manchester England but her family was a descendent from the Scottish Clan of MacGregor.
2 ) Caldwell was a creative child and started writing stories at the age of eight. However, by the time she was a teen her parents didn't think she'd be able to make a living as an author and took her writing utensils away.
3 ) Taylor Caldwell attended the University of Buffalo despite never having finished high school.
4 ) Caldwell's second husband, Marcus Reback, served as a researcher for her first few novels.
5 ) Caldwell was an outspoken conservative and associated with Liberty Lobby, an anti-Semitic group.
6 ) The FBI maintained a file on the author.
7 ) Caldwell wrote a piece for the John Birch Society's magazine American Opinion contending that income tax was unconstitutional.
8 ) Many of Caldwell's books had a central idea of a small group of powerful men controlling the world.
9 ) She was interested in reincarnation. Caldwell's friend and fellow author Jess Steam suggested that maybe her historical novels were subconscious recollections.
10) Taylor Coldwell was married for times, her first husband William F. Combs, after they got divorced she married Marcus Reback. Mr. Reback was an office in the DoJ, Buffalo and passed away in 1970. In 1972 Coldwell got married again to a retired real estate developer named William E. Stancell, however they divorced a year later. Her fourth husband, William Robert Prestie, was a former Trappist monk and a Canadian citizen.
Zohar – Man of la Book
--- Please like and follow ManOfLaBook.com ---