Japanese writer Ryūnosuke Akutagawa (1 March 1892 – 24 July 1927) had a short life, but made a huge impact on his native Japan. He committed suicide at age 35 by overdosing on barbital (a drug used for sleeping).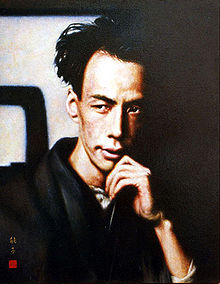 The Akutagawa, named after the author, is Japan's top literary award.
Ryūnosuke means "son of Dragon" because he was born on the day, month and year of the dragon.
From an early age Akutagawa was interested in classic Chinese literature.
Akutagawa's First High School class of 1910 produces at least 5 prominent Japanese authors ( Kan Kikuchi, Kume Masao, Yamamoto Yūzō,Tsuchiya Bunmei and Akutagawa)
Akutagawa  is known as the  "father of the Japanese short story."
Akutagawa's first short story "Rashōmon" was published in the literary magazine Teikoku Bungaku ("Imperial Literature") around 1915.
Akutagwa also wrote haiku under the pen name (haigo) Gaki
Famed Japanese author Haruki Murakami wrote the introduction to Rashomon and Seventeen Other Stories which was translated by Jay Rubin.
Two of the stories Rubin successfully translated, Chugi" ("Loyalty") and "Negi" ("Green Onions") were considered impossible to translate by Akutagawa scholars.
Akutagawa was suffering from hallucinations and fears that he had inherited his mother's mental illness.
Zohar – Man of la Book
--- Please like and follow ManOfLaBook.com ---