Richard Harding Davis (18 April, 1864 – 11 April, 1916) wrote fiction as well as being a noted journalist and war correspondent. During his lifetime Mr. Davis was one of the most active and influential journalists in the country.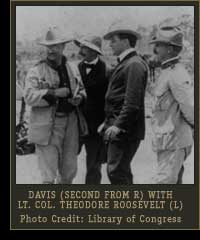 Davis' mother, Rebecca Harding Davis, was a prominent writer.
During the 1890s Davis was already a well known writer, a reporter for The Sun and managing editor for Harper's Weekly.
Davis was the first American war correspondent to cover the Spanish-American War, the Second Boer War, and the First World War.
Newspaper giant William Randolph Hearst commissioned Davis to cover the Cuban rebellion against Spain with illustrator Frederick Remington.
Davis wrote to major stories that contributed greatly to the interest in the struggle of the Cubans. One was "The Death of Rodriguez" which described the execution of a young prisoner, the second about a strip search of a young woman. Hearst changed the second story, saying that the search has been done by male guard, as a result Davis resigned and never worked for Hearst again.
During the Spanish-American War (1898) Davis was reporting from the U.S. Navy flagship New York. Reporting for Scribner's Magazine, the New York Herald and the Times of London Davis witnessed the bombing of Mantanzas which gave the New York Herald a scoop. After the article was published the Navy prohibited any reporters from being on U.S. ships for the rest of the conflict.
As a good friend of Theodore Roosevelt, Davis helped create the legend around the Rough Riders (and became an honorary member).
Davis covered the Russo-Japanese War from the point of view of the Japanese.
Davis' successful novel Soldiers of Fortune (1897) was turned into a play and two movies (released in 1914 and 1919).
If you go to 21st and Chacellor Streets in Philladelphia, PA you will see a plaque on his boyhood home.
Zohar – Man of la Book
--- Please like and follow ManOfLaBook.com ---