Ricardo Güiraldes (13 February, 1886 – 8 October, 1927) was a poet and a writer hailing from Argentina.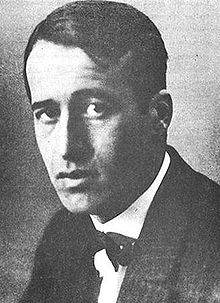 Mr. Güiraldes was born in Buenos Aires but died in Paris, France.
His parents were landowner aristocrats.
Manuel Güiraldes, the author's father, was intendente of Buenos Aires. Intendente is a mayor which is appointed by the government.
The family moved to Paris, France for four years when Mr. Güiraldes was one year old. By the age six the author spoke Spanish, French and German.
He considered French to be his first language.
The author's mother, Dolores Goñi, was from the family of Ruiz de Arellano, who founded the village of San Antonio de Areco in 1730. The family kept a home in San Antonio which is where the author was introduced to guachos who he were prominently featured in his most famous book Don Segundo Sombra (1926).
Guachos are Argentinian ranch workers who are an important cultural symbols
When his poetry book, El cencerro de cristal, didn't sell Güiraldes threw the unsold copies into a well. His wife, Adelina del Carril, fished them out and now they are sought after collectibles.
In 1924 Güiraldes founded the magazine Proa, with Brandán Caraffa, Jorge Luis Borges, and Pablo Rojas Paz.
Ricardo Güiraldes is entombed in San Antonio de Areco, Buenos Aires.
Zohar – Man of la Book
--- Please like and follow ManOfLaBook.com ---