Ray Bradbury (22 August, 1920 – 5 June, 2012 ) was an author, visionary and futurist who is credited with popularizing the science-fiction genre.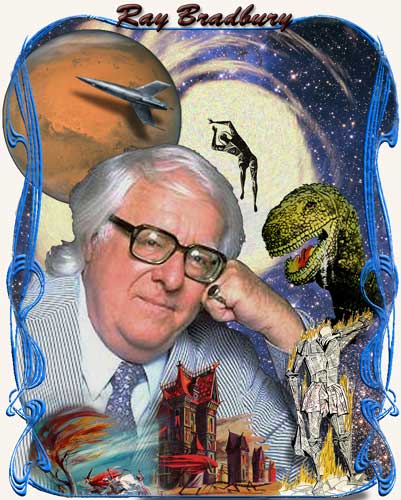 Picture from http://www.coliserv.net/swm/ray-bradbury.html
Bradbury's first job as writing for the George Burns and Gracie Allen's radio show.
The first girl Bradbury asked out was a bookstore clerk who became his wife.
Mrs. Bradbury worked full time while Mr. Bradbury stayed at home and wrote full time, an unheard of arrangement during the 1940s.
Ray Bradbury never had a driver's license, he was scared of cars since witnessing a horrific accident with 6 fatalities when he was 16 years old.
Even though he is associated with the science-fiction genre, Ray Bradbury considered himself a fantasy writer. He said that science-fiction describes the "real" while fantasy describes the "unreal".
Bradbury considered Fahrenheit 451 his only true science-fiction novel.
Ray Bradbury didn't like computers or eBooks, believing that the Internet was "distracting". However his stance softened when his agent explained to him that "a new contract wouldn't be possible without ebook rights".
An editor at Mademoiselle published Bradbury's short story Homecoming in 1947 which won the O. Henry Prize Stories for one of the best short stories of 1947. That editor was Truman Capote.
The fantasy novel From the Dusk Returned took Bradbury 55 years to write, from 1945 to 2001.
The author's ancestor, Mary Perkins Bradbury, was tried as a witch and sentenced to hang during the Salem witch trials. However, her husband broke her out of jail and the couple ran off.
Zohar – Man of la Book
--- Please like and follow ManOfLaBook.com ---