Norman Mailer (31 January, 1923 – 10 November, 2004) was an American author, journalist, playwright, actor, film maker and political activist.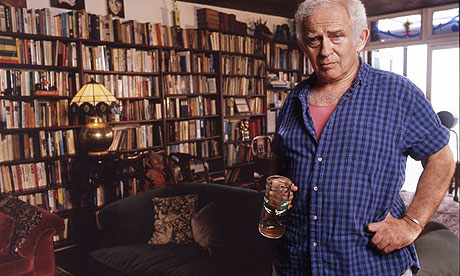 Mailer was born in Long Branch, NJ under the name Nachem Malek.
Mailer was 16 years old when he enrolled at Harvard University.
As a soldier in the US Army during World War II he served in the Philippines and finished his career as a cook in Japan.
Mailer's military career inspired The Naked and the Dead, a semi-autobiographical book, which he wrote while enrolled at the Sorbonne in Paris, France. The book was very successful and 25 year old Norman Mailer became a celebrity.
Mailer is known for his problems with alcohol, drugs, fistfights and fascination with boxes. I believe he also wrote some stuff.
 The author was married six times which includes a marriage for a few days to Carol Stevens in order to legitimize their daughter.
Mailer's bibliography is impressive, over 30 books which include works of non-fiction, essays, biographies and novels. Norma Mailer won the Pulitzer twice – The Armies of the Night (1968), which also won the National Book Award, and The Executioner's Song (1979).
Mailer invented the term "factoid – a misstated fact that appeared in a news story and is then repeated in subsequent stories. However, we've all bee using it wrong to mean a tiny fact.
In his very successful biography of Marilyn Monroe, appropriately titled Marilyn, Mailer claimed that the actress has been murdered by the FBI and CIA due to her affair with Robert Kennedy. The book sold more copies than any other of Mailer's books except The Naked and the Dead.
In 1969 Mailer made a run to be New York City's mayor – his slogan "No More Bullshit".
He lost!
Zohar – Man of la Book
--- Please like and follow ManOfLaBook.com ---