This day in 1722 the novel The Fortunes and Misfortunes of the Famous Moll Flanders by Daniel Defoe was published. As with all great novels there is a great story behind it.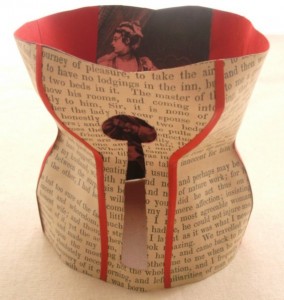 Scarlet Woman Moll Flanders keyhole paper sculpture red
by ScathinglyBrilliant
Great price on this book in paper or elec­tronic for­mat
through the Man of la Book Affil­i­ate Account
1 ) The novel's full title is The Fortunes and Misfortunes of the Famous Moll Flanders, &c. Who was Born in Newgate, and during a Life of continu'd Variety for Threescore Years, besides her Childhood, was Twelve Year a Whore, five times a Wife (whereof once to her own Brother), Twelve Year a Thief, Eight Year a Transported Felon in Virginia, at last grew Rich, liv'd Honest, and died a Penitent. Written from her own Memorandums.
2 ) Defoe, a prolific writer, published two manuals on… good living before writing the novel. The Family Instructor and Religious Courtship.
3 ) After the success of Moll Flanders Defoe published another manual titled Conjugal Lewdness or Matrimonial Whoredom, a Treatise concerning the use and abuse of the Marriage Bed (with a title like that, I'd like to read it).
4 ) By the time the novel has been published, Defoe was already a successful novelist with the publication of Robinson Crusoe (1719).
5 ) Kim Novak, Julia Foster, Josie Lawrence, Robin Wright Penn and Alex Kingston all played Moll Flanders on television or screen.
6 ) The 1996 American adaptation of Moll Flanders (starring Robin Wright Penn, Morgan Freeman and Stockard Channing) took great liberties and artistic licenses to the point where most elements of the original story are missing.
Don't you hate that?
7 ) Moll Flanders is written in first person.
8 ) A story of redemption, when the reader meets Moll Flanders she is a whore, bigamist and a thief who commits adultery and incest. To Defoe's credit, the character of Moll Flanders still manages to gain sympathy.
9 ) Moll Flanders is still considered an excellent example of fictional characters drawn from life.
10) Even though the novel was a great success, Defoe died hiding from his creditors.
Great price on this book in paper or elec­tronic for­mat
through the Man of la Book Affil­i­ate Account
Zohar – Man of la Book
--- Please like and follow ManOfLaBook.com ---