Today we celebrate the birthday of notable author and poet Maya Angelou (4 April, 1928). Her life is an inspiration to many people and she is known for captivating the audiences through her magical lyrics and beauty of her words in her poems.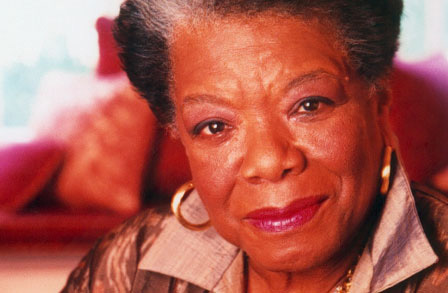 The author's birth name is Marguerite Ann Johnson
Ms. Angelou's older brother nicknamed her  "Maya," shortened from "My" or "Mya Sister."
Ms. Angelou's grandmother took in her grandchildren for several years due to their parents' divorce. The kids lived with their grandmother, a smart and honest store owner, for several years in Stamps, Arkansas.
Ms. Angelou was abused at the age of 8 by her mother's boyfriend. The man was found guilty, spent one day in jail (?) and was murdered a few days after his release.
Ms. Angelou was She was active in the Civil Rights movement, and worked with Martin Luther King, Jr. and Malcolm X. King was assassinated on her 40th birthday.
Ms. Angelou's jobs when she was younger included a table dancer and a madam for lesbian prostitutes.
Ms. Angelou's first album, Miss Calypso, produced (1957), was made possible due to the popularity of her nightclub act.
Ms. Angelou recited her poem, "On the Pulse of Morning", at President Bill Clinton's inauguration.
Though Maya Angelou has been actively involved in academic engagements, she does not have a college education.
Ms. Angelou has received with thirty honorary degrees, 3 Emmys, a Tony award and the Presidential Medal of Freedom.
Zohar – Man of la Book
--- Please like and follow ManOfLaBook.com ---